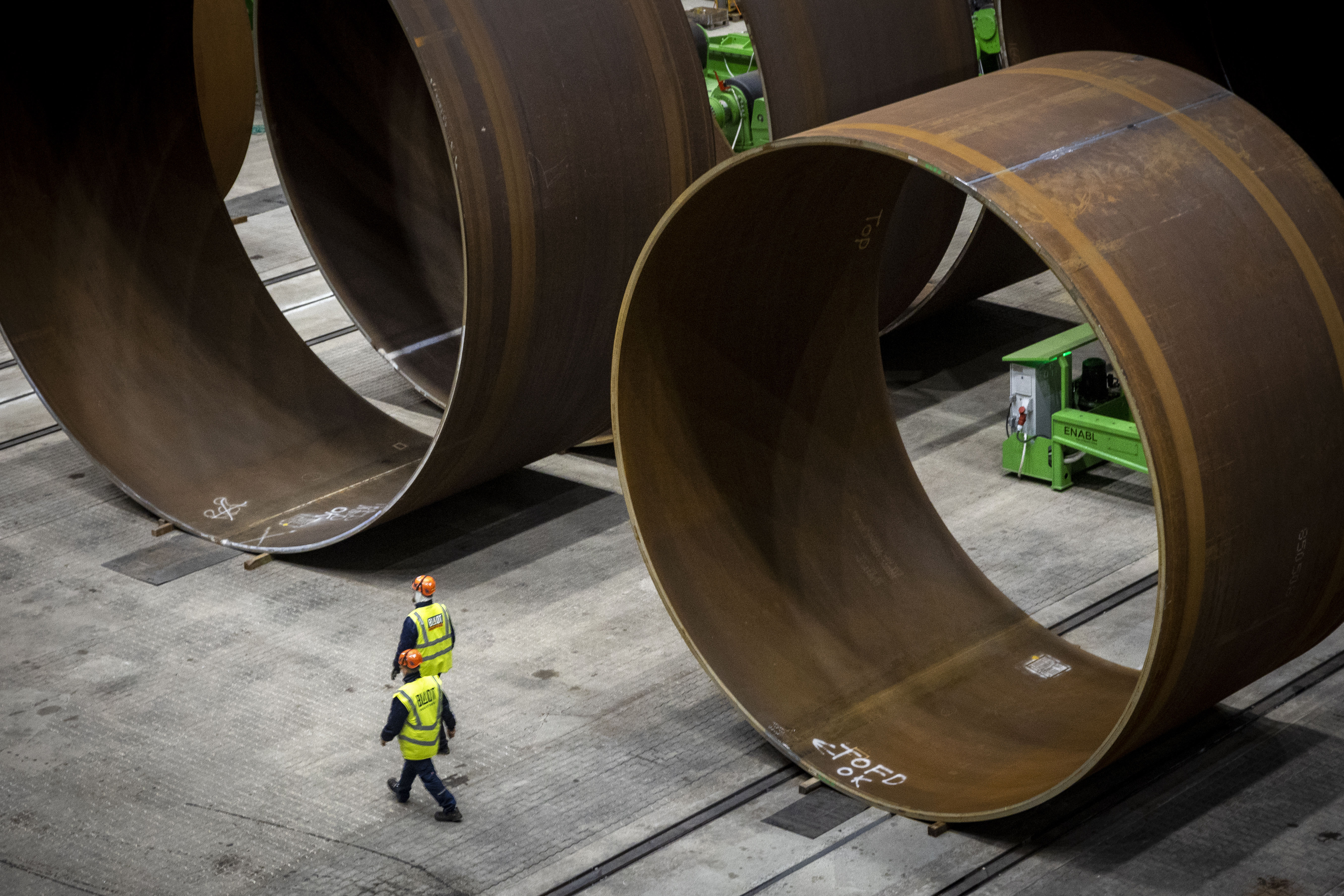 Researchers at SDU receives 13 million DKK grant to develop a robot that will be crucial to the green transition
A new research project at the Center for Large Structure Production (LSP) at the University of Southern Denmark (SDU) has received a grant of over 13 million DKK to develop a mobile robot welding crane. Such a robot may become necessary if we are to succeed in expanding green energy from offshore wind turbines.
They tower more than 250 meters into the air and are as large as the pylons of the Great Belt Bridge. The blades are more than 100 meters long. And a single one of them can produce electricity for up to 20,000 households in a year.
Giant wind turbines.
By 2050, 10,000 of the largest wind turbines are to be installed in the North Sea. At a minimum. This was decided by Denmark, Holland, Belgium, and Germany last year.
However, conventional offshore wind turbines must be placed on foundations on the seabed, and when the demand of windmills rise, so does the need to produce more and more and even bigger foundations. An increase of production is therefore urgently needed.
This is, exactly what the researchers at the Center for Large Structure Production (LSP) at University of Southern Denmark together with their partners intend to do something about. And they have recently received 13.3 million DKK from the Energy Agency's development fund, EUDP, for the purpose.
Shortage of welders
In collaboration with Inrotech, who makes welding robots, and Bladt Industries, who makes foundations for wind turbines, the researchers aim to develop a new type of robot that can weld at heights of 15, 20, and possibly even up to 50 meters.
This is highly needed because of the massive shortage of welders in the industry.
- We have difficulties getting the amount of qualified workers that we need, and that is why we must automate as much as we possibly can. In the future, there will still be a need for skilled welders, but if we are to keep up with demand we need robots, says responsible welding engineer at Bladt Industries, Nis Hansen.
- Furthermore, we don't have the facilities to develop and test new technologies, because we need all the space we have for our production. That is another reason why we are extremely happy to be a part of this project, adds Henrik Victor Hansen, operations manager at Bladt Industries.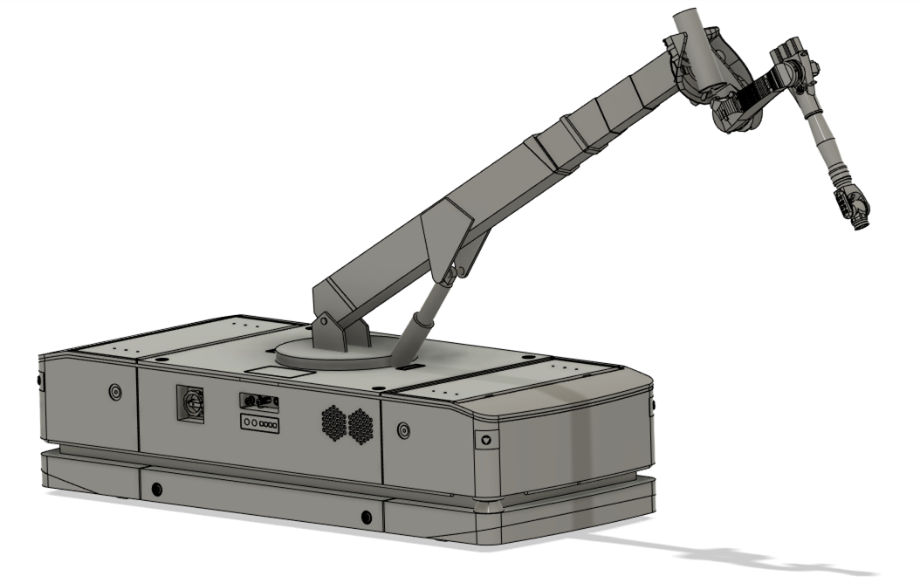 Important for the green transition
According to Hans Jørgen Brodersen from Energy Cluster Denmark, the robot could make the production of wind turbine foundations faster and cheaper and thereby become an important part of the green transition.
- In the green energy transition, it is urgent to reduce the time from project idea to production and implementation of the huge scaling up that is needed if we are to achieve our climate and energy goals," says Hans Jørgen Brodersen.
Energy Cluster Denmark is involved in the project as a cluster organization for the energy sector, as is Odense Robotics.
- If we succeed in developing and deploying large automated mobile robot solutions with multi-tools that can precision-weld and assemble mega-structures such as wind turbine towers, foundations, and large energy facilities, we can better manage both the scaling up and the time horizon we are working towards, says Hans Jørgen Brodersen.
Model-based control system
But it won't be an easy task, explains Professor Christian Schlette from SDU.
He is the head of LSP, which focuses on automating the production of large structures, including wind turbines and ships, using robot technology.
- Welding may look rough and simple, but in reality, it is a very precision-demanding piece of work. And it doesn't get any easier when you're 15, 20, or 50 meters up because structures and cranes at that height move, says Christian Schlette.
Therefore, the robot will consist of a mobile platform at the bottom. On top of it, there will be a crane. And at the top of the crane will be a robotic arm with a welding tool. In this way, there are three movable parts that can compensate for both their own movements and movements in the steel structures.
- But of course, it requires that the three parts are synchronized, says Christian Schlette.
- The only way we can do this is by creating a model-based control system based on a mathematical model for how the materials and all the parts behave, which we then input into the robot, so that it knows that if something moves in a certain way, it should react in a certain way.
Many applications
There are already welding robots that can weld large structures high above the ground. However, there are several challenges with existing technologies, says Christian Schlette.
- Existing solutions have to be very large and therefore also expensive. For example, welding tools are placed on gantry cranes or on lifting towers. Often, they are also made specifically for one type of product or task, and they are fixed in a certain place. Our platform will be mobile and can be used in several different places, says the professor.
He is backed by Thomas Bøgner, Sales Manager at Inrotech:
- We are proud to be part of this exciting project, where our collaboration with University of Southern Denmark once again proves that we can further develop welding technologies.
However, the robot will also be able to be used for many other things besides just welding.
- You can attach all sorts of other tools to it and use it for painting, grinding, or cutting, not just in the energy sector, but also in the construction industry, says Christian Schlette.
The goal is for the robot to be ready for use when the research project is completed in 3.5 years.
Facts
The development of a mobile robot crane platform has received DKK 13,339,485 in support from EUDP. It will be developed by researchers at SDU's Center for Large Structure Production (LSP) in collaboration with Bladt Industries, who will also be the end customer, Inrotech, who will be responsible for the welding part, Odense Robotics, who will involve the robot industry, and Energy Cluster Denmark, who will bring the energy sector into the project. Initially, the robot will be used to weld foundations for offshore wind turbines - both the so-called monopiles, which consist of a large steel cylinder that is placed in the seabed, and the so-called jackets, which are a more open structure similar to towers for high voltage power lines. A considerable part of the costs of wind turbine production go to welding, and at the same time, there is a shortage of qualified welders. Thus, the robot can become particularly important for the green transition.