New milestone for composite production
SDU researchers, alongside companies Terma and Technicon, have developed a complete robot technology system for the manufacturing of composite parts. The suction cup-based system may revolutionize the production of parts for aircraft, cars, and wind turbines.
Robotics professor Henrik Gordon Petersen from the University of Southern Denmark (SDU) is currently putting his finishing touches on a large robot technology system called Flexdraper.
After six years of intense research and programming, the system is now ready to solve a complicated task: To place sticky fiber mats on molds during the manufacturing of composite parts, which is an automation problem that the industry has struggled to solve for over 30 years.
In moving from manual to automatic layup, the Flexdraper system marks a breakthrough in the production of composite parts.
"

As far as I know, it is the most complex process in the world anyone has ever managed to program offline.
– As far as I know, it is the most complex process in the world anyone has ever managed to program offline, says Henrik Gordon Petersen.
– Mathematically speaking, it has been extremely complicated, but we now have a finished system, which holds enormous potential for the aircraft, car and wind industries.
Must be draped gently
Aircraft component manufacturers such as Terma in Danmark are increasingly using composite material for various aircraft parts.
Composite is lighter, stronger, and more flexible than, for instance, aluminum. But until now, the manufacturing essentially required a set of human hands to carefully drape the fiber mats on the molds without forming any creases and air pockets in the structure.
The manual process is time-consuming and expensive. In 2014 Terma called on SDU to develop an automated solution together with other companies.
They all said no
– At that time, I had talked to almost all other people in the automation industry, remembers Jesper Freltoft, Vice President Innovation Lab at Terma.
About composite
Composite parts are made up of a series of sticky layers of thin fiber mats.
The individual layers must be placed completely precisely and smoothly on a form, so that unevenness in the structure is avoided.
Until now, this has only been possible to handle manually, which has made it more expensive and delayed the use of composite parts.
The automation of the time-consuming manual process strengthens the competitiveness of a wide range of sectors and industries, including aerospace.
– They all said no to developing a solution and that it was impossible because it was so difficult and complicated. Fortunately, SDU took up the challenge, and created a strong consortium of partners with insight into the industry and a towering academic level, he says.
The Flexdraper solution consists of 48-120 individual suction cups, sophisticated software, sensors, arms, and cameras, which ensure a precise robot placement of the soft composite material on the mold and verification of the quality standards required for the aerospace parts.
At Terma, the new technology will be used to produce outer skin panels, tail rudders, wing flaps, and other aircraft parts. Terma's largest customer is American Lockheed Martin, which is currently manufacturing the first Danish F-35 fighter jets in Texas. In the long run, the parts for these aircrafts will also be produced with the new technology.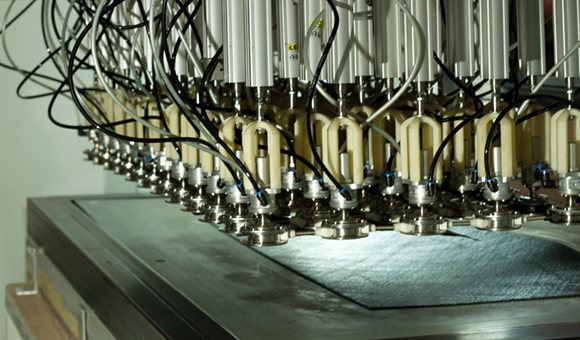 Lower CO2 emissions
The aviation industry in general has very strict rules and guidelines, and Joachim de Kruijk from the Netherlands Aerospace Center NLR, who is part of the partner circle, has acted as a consultant on the project.
He highlights the safety and consistency as some of the Flexdraper system's greatest strengths.
– We all prefer that our aircraft stay in the air. To ensure that, there are enormously high demands that suppliers of aircraft parts must live up to. It is impressive that the team behind Flexdraper has succeeded in developing such a reliable and precise solution of such high quality, he iterates.
– When this becomes widespread, we will see wider use of the lightweight composite material, and it will lead to lighter and cheaper aircrafts, lesser fuel consumption, and lower CO2 emissions.
In search of investors
The next step is to commercialize the technology under the auspices of a coming company, Sarto Robotics. Here, the integrator company Technicon will take the lead.
– We are super happy that we have managed to get this far, says Casper Hansen, director of Technicon, which has also been part of the consortium.
– The process has been insanely difficult, and therefore it is with great satisfaction that we have now reached the finish line with a great physical tool and an advanced software suite that can be scaled and commercialized in various contexts.
"

It will lead to lighter and cheaper aircrafts, lesser fuel consumption, and lower CO2 emissions.
– Our next step will be to find partners and investors who will help bring this into the global aviation industry and implement the technology in production. We look forward to embarking on this together with SDU and Terma, he concludes.
Meet the researcher
Henrik Gordon Petersen is a Professor at SDU Robotics at the Mærsk Mc-Kinney Møller Institute.