Board games will help inmates and their children
Teenagers don't visit their parents in prison as often as younger children do. A research team is now developing board games that will make visiting parents in prison a better experience for teens
By Kathrine Højte Lynggaard, presse@sdu.dk 3 March 2016

Around 4500 children and youth in Denmark under the age of 18 have a parent in prison. Children are able to visit their mothers or fathers in prison, but figures from the Danish Prison and Probation Service show that children visit less often once they reach their teens.

What is keeping teens away? And how can we make visiting parents in prison a better experience, and thereby strengthen the relationships teens have with their imprisoned parents?

A research team from SDU Design is in the process of investigating just this. Backed by DKK four million from the Danish foundation TrygFonden, the team is developing a number of games that are intended to improve parent-child relationships using play, humour and imagination.


Bad relationships lead to lack of well-being
- We are seeing a lack of initiative in the Prison and Probation Service's visitation programme that is aimed at teens. The prisoner visitation areas only have puzzles, soft toys and drawing tools. Since mobile phones and other electronic devices are not allowed in prisons, a couple of hours can feel like an eternity, explains Postdoc Eva Knutz from the Department of Design and Communication at SDU.

Studies show that having a good relationship with their imprisoned parents has an influence on children's well-being. Having a bad relationship can lead to difficulty sleeping, problems concentrating in school and challenges with making friends.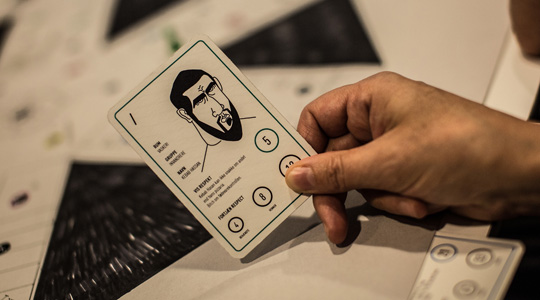 Board games can encourage conversation
Associate Professor Thomas Markussen—heading the project with Eva Knutz—explains that they did not choose board games as both a product and research tool at random.

- Games can help encourage young people to tell their imprisoned parents more about their everyday lives in the outside world. Games can also help make it easier for youth to talk about tough topics, says Thomas Markussen.

- In the research phase, we will use the game to learn more about our target audience. You could say that we are playing our way to finding out what would constitute a good visit for young people, which we can then use to design a game that will set the stage for having good prison visitation experiences.


Workshop with prisoners' children
The first phase of the project has been about finding out what keeps young people from having good visits with their parents in prison and what makes a visit good in the eyes of these young people.

This is a piece of knowledge that researchers, among others, have played their way to figuring out at a workshop involving children of imprisoned bikers which just recently wrapped up.

The game had each youth describe a dream related to their father which they had to try to fulfil over the course of the game.


A boy's dream gave researchers an idea
One boy's dream was:
"To have a good visit with my father where we don't talk about family problems, and I get a chance to say what I think and we play fight with each other. When we play fight, I can tell that my dad loves me".

This gave researchers new ideas for the board game for fathers and children to play during their visits in prison.

- We are now considering whether we should incorporate physical activity as part of the game. As an example, they might work together to come up with a secret hand sign, or they could give each other tattoos with markers, says Eva Knutz.


60 inmates will test out the games
Lastly, the researchers will measure the effect of the board games to ultimately ascertain whether or not the games can bring teens and fathers closer together.

They will do so by letting a group of 60 inmates at the State Prison of East Jutland play the board game with their children for a certain period of time. There is a control group at the State Prison in Nyborg that will not get to play the game until later in their visits.

The research project bears the title Social Games Against Crime. It runs for three years and wraps up in October 2018.