A sustainable institute for a future worth living in
It is part of MCI's strategical set of values that we're sustainable within our education, research and development and in our employee politics, which is reflected in those SDGs that we particularly focus on.
From the 17 approved SDGs, MCI particularly focuses on contributing to SDGs #7, 8 and 9 – but in their everyday research here on campus, our scientists in the institute's centres and sections work on 7 SDGs all together. You can soon read more about these in detail on their
individual websites
.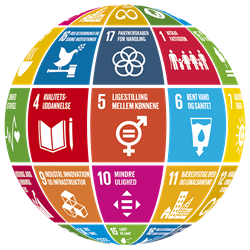 SDG #7 – Affordable and clean energy
Harvest and storage of solar energy
Our goal is to develop different types of devices for harvest and storage of solar energy. For this, we work with organic, hybrid and thermal solar cells as well as supercapacitors for the use in buildings, transport and industry.

Sustainable buildings
The benefits of our organic solar cells are that they are flexible and semi-transparent and that they need less resources and energy during production. By this, they can be directly applied in the cities and in preserved buildings, where you wouldn't normally find space for the common silicon solar cells. Another contribution to sustainable buildings is our research within the development of thermal cameras that can make the houses more efficient by showing how much heat a building emits. Based on these measurements it is possible to optimise the building and reduce energy waste.

Production, storage and transport of electrical energy
To make production, storage and transport of electricity more efficient, we are working on the development of a smart grid, e.g., in the Fyn Energy project. This grid makes it possible to use different forms of energy only available at certain hours. Our research and development activities within power electronic systems such as, e.g., superefficient capacitors, contribute to the conversion of energy from, e.g., windmills to an energy form that matches the electricity network. The technology can profitably be used in developing countries where it helps to establish better living conditions by providing inhabitants easier access to electricity and at the same time utilising the sustainable energy sources in the best possible way with a minimal loss.

From electronic to optical components
To further reduce the energy consumption, our nanophotonics centre is concerned with an enhanced use of optical technologies within modern information and communication systems. These technologies need less energy, e.g. in a computer that operates with optical integrated circuits which have a significant lower energy loss and a broader bandwidth than a normal PC. Optical components can also be used within printing technology where they lead to a more efficient use of resources. As an example, we are investigating flat optical components which, by use of plasmonics, enable colour printing without having to use printing ink.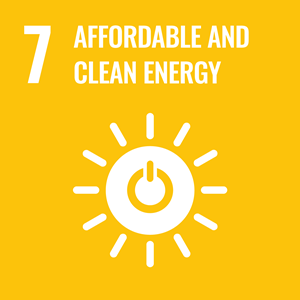 SDG #8 – Decent work and economic growth
More skilled engineers to the region
MCI is educating an increasing number of students to become skilled engineers who can help tackling the societal challenges of the future. Many of our graduates apply for jobs in our region and thus support regional economic growth and the local society.
Competitive companies
In addition, our research within simulation, development, test and demonstration of the factories of the future contributes to secure jobs. By implementing lean automation and digitalisation, among other things, companies can be on the forefront in terms of Industry 4.0, which helps them remain competitive and to keep the jobs in the region.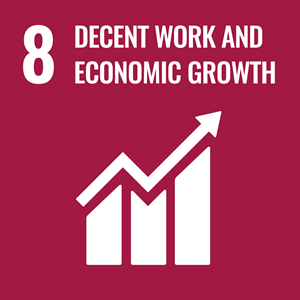 SDG #9 – Industry, innovation and infrastructure
Efficient product development and data processing
Together with our industrial partners we develop innovative solutions that lead to new products. By using VR in the form of modelling and simulation of experiments and prototypes, we can lower the consumption of materials and labour. The development and improvement of future quantum information technologies secure an increased quality and quantity within data processing and communication.