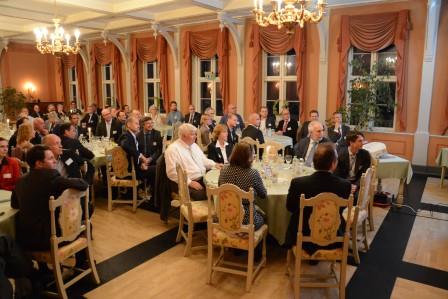 Celebration of the cross border collaboration
For the first time The University of Applied Sciences' tradition-steeped Nordic Evening was held together with the Mads Clausen Institute on Danish soil. The evening showed once again, that the cross border collaboration is unique.
Approximately 100 selected guests – representatives from businesses, the sciences, politics and public administration in the region of South Denmark and in Northern Germany – recently got together at Ballebro Færgekro. In a new development The University of Applied Sciences, the Employers' Federation Flensburg, Schleswig, Eckernförde as well as the University of Southern Denmark (Mads Clausen Institute) held this tradition-steeped Nordic Evening for science and business jointly.
Not to fall behind the metropolitan regions
Throughout the whole evening the atmosphere oozed of curiosity and excitement as to which topic would be discussed at the tables or which speech was yet to come. The President of the University of Applied Sciences Flensburg, Prof. Dr. Herbert Zickfeld, was the first speaker, and in his speech he emphasized that the German-Danish friendship between the two universities is a fact. Joint INTERREG-projects, master students at the University of Applied Sciences Flensburg or joint lecture series and workshops are already a fully integrated part of the joint cross border study programs. According to Zickfeld the focus now has to be set on more effectively combining the cross border competences in science and business, so that the Danish-German region can continue to develop further so as not to fall behind the metropolitan regions in Germany and Denmark.   
The Acting Dean of the Faculty of Engineering, University of Southern Denmark, Prof. Dr. Horst-Günter Rubahn, picked up the thread and told the interested guests about the multiple possibilities the new INTERREG 5a-program gives the Danish-German region. This INTERREG-program offers many possibilities not only with regards deepening the cross border collaboration between e.g. University of Applied Sciences Flensburg and the Mads Clausen Institute but also in establishing and positioning the Danish-German region as a technological hub.
As a conclusion to a cheerful and important evening for the border region the Chairman of the Danfoss A/S board, Jørgen Mads Clausen, spoke of the new InnovationsFond in Denmark of which he is also the Chairman. Recently the Fond/Foundation opened up for the possibility for interested parties to apply for financial funds for cross border collaborative projects as well. 
The Nordic Evening for science and business has truly been a valuable event in cross border collaboration as many new interdisciplinary and cross border ties have been established and new ideas for partnership initiated