Stéphane Bouchard is appointed adjunct professor at Research Unit for Telepsychiatry and E-mental Health
Stéphane Bouchard is adjunct professor at Research Unit for Telepsychiatry and E-mental Health at the Faculty of Health Sciences, University of Southern Denmark, and tenure professor at the Université du Québec en Outaouais, where he holds the Canada research Chair in Clinical Cyberpsychology and teaches cyberpsychology, psychotherapy and research methods.
Born in 1966, Stéphane Bouchard obtained his Ph.D. from Université Laval in 1995 and the same year completed a post-doc at the Centre de Recherche Robert Giffard. As a scientist-practitioner, his research shows a dedication toward conducting both meaningful clinical applications of cyberpsychology and rigorous science to treat anxiety and other mental disorders.
Research projects
His current research projects involve developing virtual environments to treat complex anxiety disorders and pathological gambling, leading randomized control trials on the efficacy of exposure in virtual reality for anxiety disorders, and conducting experimental studies to understand why virtual reality is an effective treatment tool.
Another prolific area of expertise is telepsychotherapy, where he conducts randomized control trials and processes studies on the efficacy of delivering cognitive-behavior therapy in videoconference. His research lab in Gatineau, Canada, holds Psyche, the only six-sided total immersion virtual reality system dedicated to mental health research in the world.
He has received for more than 12 million dollars in infrastructure and research grants and he has published more than 150 scientific articles and book chapters and delivered hundreds of scientific communications around the world. According to indexes weighting number of publications and citations in peer-reviewed journals, he is among the five world leading researchers in the field of clinical applications of virtual reality and telepsychotherapy.
Additional achievements
In addition to his research chair, he has received several career award, including the New Researcher Award from the Canadian Psychological Association in 1995, the Annual Cybertherapy Excellence in Research Award in 2005, and the Prix Adrien Pinard from the Société Québécoise pour la Recherche en Psychologie in 2014 for his outstanding contribution to the field of psychology. His most recent books relevant to his adjunct professor position at USD were published with Brenda Wiederhold (Advances in Virtual Reality and Anxiety Disorders) in 2014 and with Skip Rizzo (Virtual Reality for Psychological and Neurocognitive Interventions) in 2019.
He is also associate editor of Cyberpsychology, Behavior and Social Networking, and Frontiers in Psychology: Quantitative Psychology and Measurement. Finally, he is a highly appreciated clinical supervisor and workshop leader on cognitive-behavior therapy of anxiety disorders and on clinical applications of virtual reality and telehealth.
Meet the researcher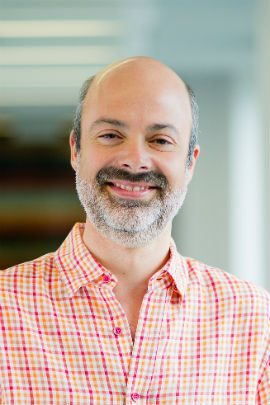 Stéphane Bouchard, adjunct professor at Research Unit for Telepsychiatry and E-mental Health and tenure professor at the Université du Quebéc en Outaouis