Antonia Zapf is appointed adjunct professor at Clinical Physiology and Nuclear Medicine
Antonia Zapf, Professor at the University Medical Center Hamburg Eppendorf, Germany, has been awarded the honorary title Adjunct Professor at the Research Unit of Clinical Physiology and Nuclear Medicine, Department of Clinical Research, Faculty of Health Sciences, SDU.
As of 1 March 2020 and until 28 February 2025, Professor Antonia Zapf will be affiliated to the Research Unit of Clinical Physiology and Nuclear Medicine at the Department of Clinical Research.
She is employed as Deputy Director of the Institute of Medical Biometry and Epidemiology and Head of the Department of Medical Biometry at the University Medical Center Hamburg, Germany, since April 2018. Her research interests comprise statistical methods for diagnostic studies and clinical trials, especially adaptive trial designs and meta-analysis techniques.
Her project "Flexible designs for diagnostic studies – from diagnostic accuracy to personalized medicine" (2017-2021) was funded by the German Research Foundation and hosts currently 3 PhD students. The focus on and interest in efficient trial design methodology in diagnostic research in general and response evaluation with PET/CT in cancer in particular at the Research Unit for Clinical Physiology and Nuclear Medicine offer a broad basis for continuing ongoing and future joint research endeavors.
Antonia Zapf, aged 39 years, studied statistics at the Ludwig-Maximilians-University, Munich, and received a PhD for her thesis about covariate-adjustment of the area under the ROC curve at the Georg-August-University, Göttingen. Her DMSc thesis in medical biometry concerned the "Evaluation and selection of diagnostic tests" and was awarded the DMSc prize of the University Medical Center Göttingen.
She is an active member of the International Biometric Society and the German Association for Medical Informatics, Biometry and Epidemiology (GMDS). She serves as chair of the Medical Biometry section of the GMDS and is a member of the editorial board of the Deutsches Ärzteblatt. She serves as reviewer for various international medical and statistical journals. Antonia Zapf (co-)authored 90 scientific publications in international, peer-reviewed journals. Her h-index is currently 22.
She lives in Hamburg-Sasel and is married to Holger and mother to 5 children aged between 9 and 17 years. Her leisure time is dedicated to her family and outdoor activities.
Meet the researcher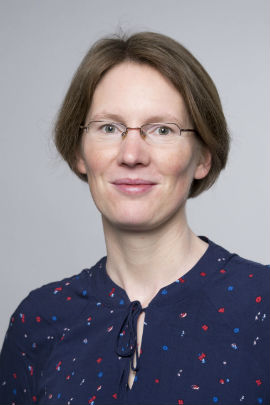 Antonia Zapf, Professor at the University Medical Center Hamburg Eppendorf, Germany