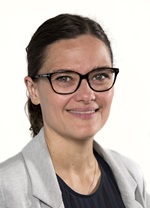 Mette Bliddal, Lecturer, PhD
Affiliation: OPEN
Mail: Mette.bliddal@rsyd.dk
Tel.: +45 29 43 79 12
Area of interest: With starting point in the national Danish registries, alone and in combination with other data set, I have a special interest in reproduction epidemiology with focus on intra uterine exposure of medicine and how children and mothers are doing afterwards. In addition, I research mental health in children and their mothers, with a special interest in treatment differences in Denmark and in comparison with the other Scandinavian countries.
See Mette Bliddal's publication- and activity list here.
Competences:
Epidemiological methods and design

Programming and analysis
Drug utilization studies
Scandinavian collaboration
Mental health in mothers, children and young adults
Own research projects:
I work with the use of registries, their capability and limitations. As an example we are researching code practice, completion and validity of information in the Danish Registry of Births.
Based on the increasing use of antidepressants, we research the consumption patterns, development over time, concurrent diagnoses, concurrent use of other medication, as well as duration of use. We do detailed Danish studies as well as studies, where we look at the difference between the Scandinavian countries. Furthermore we research the connection between exposure to antidepressants in utero and the children's mental health later on, while we take into account the factors that can impact this connection as well as sub clinical factors. We do this by using self-reported information from the Danish birth cohort "Better Health in Generations" as well as information from the national registries.
Methodically I work with validation and development of different comorbidity and prediction scores, which are used as tools for adjustments in many association studies.
Supervisor for:
Graduate students at the Master of Science in Health (Midwifery): Anne Rosenbæk, midwife, Anita Dombernowsky, midwife & Susanne Brondbjerg, midwife. RUNmama - pregnancy, race and incontinence. Running is women's favourite form of exercise. Pregnancy affects women's exercise patterns and with data collected for the project via an Internet-based questionnaire, it is desired to examine women's running habits before, during and after pregnancy. At the same time, examine how running during pregnancy affects women's risk of experiencing urinary incontinence afterwards.