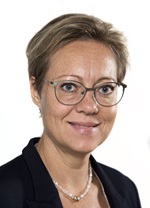 Katrine Hass Rubin, Associate Professor, PhD
Affiliation: OPEN
Mail: Katrine.Rubin@rsyd.dk
Tel.:+45 21 26 19 66
Area of interest: Epidemiology and register-based research in combination with data from cohort studies. Development of prediction models and algorithms to trace individuals in risk of different diseases, by using large danish registries.
See Katrine Hass Rubin's publication- and activity list here.
Competences:
Register studies and registry data

Clinical epidemiology
Exhaustive knowledge of national health registries

Establishment of clinical databases

Data management and data management planning

Questionnaires

Cohort studies

Supervision, training and guidance
Own research projects:
OP_65 Detection of individuals at risk of osteoporosis through registers: The aim of this study is to investigate the association of previous conditions or diseases (determined using the International Classification of Diseases (ICD-10 code)) and osteoporotic fractures in the Danish population with the aim of ultimately developing tools for identifying and treating persons at high risk of sustaining their first major osteoporotic fracture.
OP_66 The ROSE study (Risk-Stratified Osteoporosis Strategy Evaluation): ROSE is a randomised population-based study, including 20,904 Danish women aged 65-81 years, investigating the effectiveness of a two-step screening programme for osteoporosis, using a questionnaire based on FRAX® followed by DXA-scan. Further, the study is expected to provide knowledge about cost-effectiveness, patient preferences of screening programme to prevent fractures.
Supervisor for:
Also involved in (all register based research projects):
OP_939 Morbidity in transgender persons in Denmark:
Transgender is used as an umbrella term to describe individuals, whose gender identity differs from the assigned sex at birth. Transgender females are people assigned male at birth, but who self-identify as females. Transgender males are people assigned female at birth, but who self-identify as male. The aim of the register based study is to determine mortality and morbidity in transgender persons compared to controls.
DECODE-EYE comprises substudies OP_742, OP_743, OP_744, OP_745, OP_746, OP_747
With this project, we intend to conduct a long series of epidemiological studies, which will provide us with an important understanding of the relationship ocular and systemic disease and between different ophthalmological conditions.
OP_709 Early diagnosis of cancer in general practice: Projektet skal identificere faktorer af betydning for case finding af høj-risikopatienter for udvikling af kræftsygdom på baggrund af data fra nationale registre. Med denne viden udvikles nye algoritmer i almen praksis for tidlig opsporing af kræft. Målet er, at disse algoritmer kan integreres i de praktiserende lægers journalsystem, således at særlige funktioner i journalen skal alarmere og derved give mulighed for tidligere opsporing af kræftsygdomme.
OP_583 Impact of red and processed meat and fibre intake on risk of chronic inflammatory diseases: a pro-spective cohort study on prognostic factors using the Danish "Diet, Health and Cancer" cohort: Chronic inflammatory diseases (CID) - including Crohn's disease and ulcerative colitis, rheumatoid arthritis, axial spondyloarthritis, psoriatic arthritis, psoriasis and multiple sclerosis are diseases of the immune system that have some shared genetic and environmental predisposing factors, but still little is known on the effects of lifestyle as a prognostic factor on disease risk. This observational study will contribute to preexisting research on lifestyle factors by identifying diet factors associated with risk of developing CID, using prospective register data.
OP_753 Trafik- og voldsofre: Ser man et ekstraordinært øget og kronisk forbrug af stærke analgetika samt varigt erhvervsevnetab hos traumeramte?:
Spinal pain is the leading worldwide cause of patient years lived with chronic pain and disability. One of the most prescribed treatment forms are medical analgesics. Opioids are frequently used and are well documented as an effective short-term painrelieving medication. However, more than a few weeks of treatment often results in a diminishing effect and the development of addictive behaviour. Additionally, the Long-Term Opioid Therapy may also result in somatic and psychological side effects and isassociated with a poor prognosis regarding working status and participation in social activities.
The aim of this prospective cohort study has been to collate relevant individual patient data over a decade in order to illuminate both the overall group data developments as well as developments relating to individual usage of opioids during this period and to correlate these findings with the individual patient's physical, psychological, and social data over a ten-year period.
OP_523 Diabetes in Denmark; Monitoring of prevalence, treatment and trends in diabetes - a National Diabetes Database:
In 2012 the Danish National Diabetes Register was closed and thus also the basis for ongoing monitoring of the epidemiology of diabetes in Denmark. The aim of this study is to establish a national diabetes database for research in the epidemiology of diabetes and its complications as well as for future monitoring of the epidemiological aspects of diabetes in Denmark. In addition, the present project will contribute with estimations of the costs of diabetes to patient and society and will investigate conditions related to the risk of misclassification of diabetes, notably gestational diabetes (GDM) and polycystic ovary syndrome (PCOS).
OP_458 Imminent Osteoporotic Fracture Risk - Epidemiological study of short term risk of osteoporotic fractures: Osteoporosis (brittle bones) is a systemic skeletal disease characterized by low bone mass and bone structure deterioration leading to increased fracture risk. Prediction models are used by clinicians treating osteoporosis to identify and target patients at high risk of fractures for drug treatment. Although such models exist for the prediction of long-term (10-year) fracture risk, there is a pool of patients with a high short-term risk of fracture/s, who are probably missed by the existing tools: existing data suggest that 1 in 4 re-fractures occur in the first year after a first fracture.
OP_41 Morbidity and mortality in polycystic ovary syndrome (PCOS): Polycystisk ovariesyndrom (PCOS) er den mest almindelige hormonale sygdom blandt kvinder i den fertile alder og ses i 5-8%. PCOS er karakteriseret ved hyper-inflammation og insulinresistens, som sammen med fedme kan være forbundet med øget sygelighed. Målet med register studiet er at undersøge sammenhængen mellem PCOS diagnose, sygdom og dødelighed.
OP_124 Validation of diagnosis codes in patients with inflammatory bowel disease (IBD): Landspatientregisteret (LPR) bruges i kliniske epidemiologiske studier i IBD, og derfor er det vigtigt, at diagnosen i LPR svarer til virkeligheden. Formålet med denne undersøgelse er at validere IBD diagnosekoder i LPR for patienter med formodet inflammatorisk tarmsygdom, Crohns sygdom (CD) og ulcerativ colitis (UC). Patienternes registreringer er revideret, og det er besluttet, om sygdommen og lokalisering svarer til oplysningerne fra LPR.
OP_252 Atypical Femoral Fractures: A Population-Based Study of Risk Factors and Relationship to Bisphosphonate Exposure and Discontinuation (Case cohort study): Langsgående populationsbaseret studie, som ved hjælp af dansk national radiologi, apotek og andre sundhedsdata med ekspert røntgenbillede gennemgang og klassificering af hver subtrokantære og lårbensskaftet fraktur i løbet af 2010-2014 ønsker at belyse risikofaktorer for atypiske femurfrakturer (AFF).