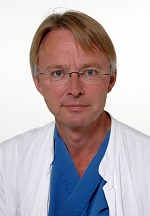 Erik Jakobsen, Consultant
Affiliation: OPEN & Department of Thorax Surgery, Odense University Hospital
Mail: Erik.jakobsen@rsyd.dk
Tel.: +45 65 41 33 70
Area of interest: Register-based research, especially the use of data in the Danish Lung Cancer Register.
See Erik Jakobsen's publication- and activity list here.
Supervisor for:
PhD-student Majken Munk Brønserud, OP_148 Association of depression and delay in diagnosis and treatment among patients with lung cancer, With an annual incidence of 4,500 patients, primary lung cancer is one of the most common cancers in Denmark. In general, lung cancer prognosis is poor; 5-year survival is approximately 10-12%. Depression has been associated with increased mortality in patients with lung cancer, but not much is known about why. The aim of the study is to examine the influence of the presence of depression in the lung cancer patient's history on a lung cancer diagnosis delay and treatment choice. The study involves more than 20,000 Danish lung cancer patients and is the largest study of its kind till date.
PhD-student Simon Bertram Reuter, OP_203 Rational approach to Unilateral Pleural Effusion in Patients suspected of Malignancy. Efficacy, Pain, Quality of Life, and Economy, When suffering from cancer, there is a risk that the cancer will spread. Often the cancers will spread to the pleura. This can cause formation of fluid and pain. These are often the first symptoms of disease. Other diseases can cause fluid formation in the pleural cavity (pleural effusion). Therefore, the investigations are diverse (blood samples, imaging and biopsies). There is a high probability of patient-discomfort, partly physical (pain), partly due to concerns (waiting, investigations and hospitalization).