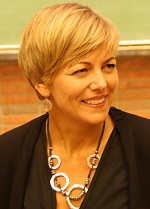 Christine Stabell Benn, Clinical Professor
Affiliation: OPEN, Statens Serum Institut
Mail: Cb@ssi.dk
Tel.: +45 32 68 83 54
Area of interest: Epidemiology, Global Health, Non-specific effects of vaccines and vitamins.
See Christine Stabell Benn's publication- and activity list here.
Supervisor for:
Bastiaan Blok, PhD-student, OP_105 Innate training effects of BCG vaccine and its potential effect modifiers, BCG vaccine has non-specific effects which provide protection against other infections. The present project will aim to investigate whether effects of BCG, on the innate immune system, could explain this non-specific protection. This will be done by combining in vitro studies and vaccination trials in healthy volunteers to elucidate the effects of BCG vaccine on the immune system, which might lead to more rational vaccination strategies.
Paul Welaga, PhD-student, OP_134 Evaluation of the effects of vaccines (BCG, DTP and Measles) on child survival in Northern Ghana
Manzoor Hanifi, PhD-student
Frederik Schaltz-Buchholzer, PhD-student

Medical students Marie Emtekjær Holck & Kenneth Bo Pedersen, OP_196 Doctor's choice: A study of general practitioner's considerations and contraindications when administering pentavalent vaccine and measles-mumps-rubella vaccine, Data from the Danish Vaccination Register has shown some variations in administration of DiTeKiPolHib and MMR if the children are delayed at 15 months of age. The study seeks to investigate the extend of the variations, and the underlying cause of these.
Medical students Søren Kristian Nielsen og Maria Luisa Heimdahl, The phase-out of BCG vaccination in Europe.
Medical students Anders Fuglsang Sørensen & Jacob Weje Waren Larsen, OP_385 Admissions for infections by age and sex: A register-based study of Danish children 1977-2014, There is increasing interest in sex differences in immunity during childhood. To examine differences in hospital admission rate for infections between the sexes, we conducted a register-based cohort study of all Danish residents aged 0-14 years from 1977-2014. We examined total admission rate, rates for admission by infection category, time-period, season and duration of admission according to age and sex.
Medical student Alexander Dahl Stjernholm, OP_393 Birth weight in Rural Guinea-Bissau: Does maternal BCG scarification affect birthweight?, The main purpose of this study is to describe the birthweight of children born in the rural districts of Guinea-Bissau. We will then compare the birthweight of children born to mothers, who have had the BCG-vaccine, to children born to mothers who have not had the vaccine.
Medical student Elise Brenno Stjernholm, OP_399 The use of mobile phone interviews to obtain health information on children in Guinea-Bissau, West Africa: A validation study, The use of mobile phones as a tool for health interventions has shown significant potential worldwide. Therefore we have decided to use mobile phone interviews as a follow-up tool in a large randomised trial involving two different strains of BCG vaccine. Provided we can document that we can get in contact with a high proportion of families, define determinants for a high success rate, and document that the information obtained is valid, then using mobile phones for follow-up and collection of outcome information could likely become a very useful and widely used tool in future randomised trials in low-income countries.