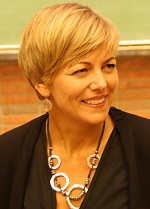 Christine Stabell Benn, Clinical Professor
Affiliation: OPEN, Statens Serum Institut
Mail: cbenn@health.sdu.dk
Tel.: +45 25 88 39 64
Area of interest: Epidemiology, Global Health, Non-specific effects of vaccines and vitamins.
See Christine Stabell Benn's publication- and activity list here.
Supervisor for:
Frederik Schaltz-Buchholzer, phd student.
Sebastian Nielsen, phd student.
Anne Marie Rosendahl Madsen, phd student.
Hanna Theresia Linnea Andersson, thesis student.
Ingeborg Einersdatter Haflan, thesis student.
Andreas Ravn Andersen, thesis student.
Søren Kaastrup Kolmos, thesis student.