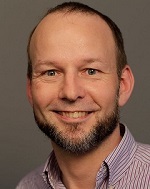 Bo Abrahamsen, Clinical Professor, Professor, Consultant, PhD
Affiliation: OPEN and Department of Medicine, Holbæk Hospital
Mail: Babrahamsen@health.sdu.dk
Tel.: +45 93 56 61 51
Area of interest: Endocrinological and bone metabolic diseases, with emphasis on epidemiology, pharmacoepidemiology and cohort studies in the field of osteoporosis.
See Bo Abraham's publication- and activity list here.
Competences:
Clinical registry research
Medical endocrinology

Calcium Metabolic diseases and osteoporosis
Vitamin D

Epidemiology and national health registers

Osteoporotic fractures
Prediction algorithms
Pharmacoepidemiology

Drug Use and Safety

Harm: benefit
Atypical femoral fractures
Own research projects:
OP_75: Risk factors for death and other outcomes of hip fracture patients (together with Henrik L. Jørgensen): Hip fractures are one of the most serious complications of osteoporosis leading to increased mortality, morbidity and cost to society. Many studies have investigated risk factors associated with increased mortality but few are concerned with the results of blood samples taken at admission and discharge. There is also very limited knowledge on the causes of death and development of co-morbidities in these patients.
OP_186: Safety and effect of bisphosphonates and other osteoporosis medications in relation to differences in clinical biochemical variables including renal function - Odense Bisphosphonate Safety Study: Although there are effective drugs such as bisphosphonates that reduce the risk of fracture in patients with osteoporosis, these drugs are untested in patients with kidney disease where the biology of the bone disease leading to bone fragility can be different. In addition some data suggests that these first-line bone therapies may worsen kidney function. Patients with kidney disease were under-represented or excluded from most randomised clinical trials as were patients with other significant biochemical abnormal findings, leaving a gap in the current medical knowledge about the potential benefits and risks of these medications in this growing group of the population. This evidence gap has led some to use untested treatment regimens in an attempt to reduce the risk of fracture.
OP_195: Primær hyperparathyreoidisme: risiko for co-morbiditet I henhold til sygdommens sværhedsgrad, herunder risiko for fraktur bedømt ud fra WHOs "Fracture Assessment Tool (together with Lars Rejnmark)
OP_252 Atypical Femoral Fractures: A Population-Based Study of Risk Factors and Relationship to Bisphosphonate Exposure and Discontinuation (Case cohort study): Longitudinal population-based study using Danish national radiology, pharmacy and other health care data, with expert radiograph review and classification of every subtrochanteric and femoral shaft fracture during 2010-2014, to elucidate risk factors for Atypical Femur Fractures(AFF).
OP_257: Chronic non-malignant pain patients and opioid therapy in Denmark, predictors and demographics of long-term opioid therapy: a national register based cohort study - The NOMAC-PAIN study (together with Carrinna Hansen): This cohort study, based on Danish National Registers, is expected to provide new knowledge of adult patients with chronic non-malignant pain and opioid use in Denmark for the period of 2000-2014. Epidemiological characteristics concerning disease and treatment-related characteristics will be described, including socio-economic and demographic factors. A need for epidemiological studies to describe chronic non-malignant pain and opioid consumption in Denmark remains, as well as a need to examine whether it is possible to determine risk groups.
Medicament safety of zoledronate and perorale bisphosphonates. Statistics Denmark, Project number: 703436. Holbæk Hospital.
In controlled clinical trials and in observational epidemiological studies, bisphosphonate treatment for osteoporosis is associated with risk for the development of, among other; cardiac symptoms, atypical fractures, delayed healing of bone fractures and the development of osteonecrosis of the jaw bone. The study aims through the Scandinavian pharmaceutical records to clarify whether such a risk exists and how big it is.
Registry study of the sequelae of gout. Statistics Denmark, Project number: 704127. Holbæk Hospital.
The study is a register study aimed to uncover the disease pattern of gout in Denmark with special focus on whether patients with gout are at increased risk of developing complications of osteoporosis and heart disease. The patients are characterized by the use of allopurinol, which is by far the most common drug used for the treatment of gout. Prescription data is thus used to define the patient group, but will also be part of the adjustment for coexisting diseases and the definition of certain heart complications as atrial fibrillation.
Fracture epidemiology in Denmark. Statistics Denmark, Project number: 703857. Holbæk Hospital.
The study aims to determine fracture rates and time trends for the development of the incidence of bone fractures in adult Danes, including APC models for comparison with neighbouring countries.
Supervisor for:
Mina Händel,PhD-student
Lars Folkestad, PhD-student
Mads Lillevang-Johansen, PhD-student
Also involved in:
OP_30 OPENTHYRO - Odense Patient data Explorative Network Thyroid Status and Register Outcomes: The purpose of the registry survey is to investigate the association between hypo- or hyper function of the thyroid gland and mortality.
OP_41 Morbidity and mortality in polycystic ovary syndrome (PCOS): Polycystic ovary syndrome (PCOS) is the most common hormonal disease among women in the fertile age and is seen in 5-8 %. PCOS is characterized by hyper-inflammation and insulin resistance, which along with obesity may be associated with increased morbidity. The aim of this register study is to investigate the linkage between the PCOS diagnosis, illness and mortality.