Associate professor, PhD,
senior researcher
Thomas Emil Andersen
MD, PhD, department specialist,
clinical associate professor


Rune Micha Pedersen

MSc., PhD, postdoc




Rasmus Birkholm Grønnemose

MD, PhD student




Kristian Stærk

Biomedical laboratory scientist




Karina Rosenlund

Biomedical Laboratory Scientist, MSc




Line Lundegård Bang



BSc, MSc student


Ditte Tornby

BSc, MSc student
Anne Sofie Løgstrup Henriksen
BSc, MSc student
Jannie Søvsø Hjelmager

BSc student




Signe Hvalsøe Andresen

Members
Thomas Emil Andersen, Associate Professor, PhD
Rune Micha Pedersen, Clinical Associate Professor, MD, PhD, department Specialist
Rasmus Birkholm Grønnemose, MSc, PhD, postdoc
Kristian Stærk, MD, PhD student
Karina Rosenlund, Biomedical Laboratory Scientist
Line Lundegård Bang, MSc, Biomedical Laboratory Scientist
Ditte Tornby, BSc, MSc student
Anne Sofie Løgstrup Henriksen, BSc, MSc student
Jannie Søvsøe Hjelmager, BSc, MSc student
Signe Hvalsøe Andresen, BSc student

The Clinical Biofilm Group is member of the SDU Centre for Translational Microbiology and the OUH Frontline Centre For Renal Diseases, Uremia and Transplantation (CENTRA).
We collaborate with the brilliant scientists at the SDU Research Unit of Molecular Microbiology, check out their homepage here.
Interested in urinary tract infection? See our homepage on this topic here (Danish).
Research focus
Biofilm-related infections continue to be a major problem at hospitals. Bacteria and fungi are efficient colonizers of implants and indwelling medical devices, which leads to failure of device function and compromised patient treatment. In addition, pathogenic organisms may use biofilm growth as a means of surviving host response in the body's inner cavities, facilitating invasion and systemic infection.
The research conducted at the Clinical Biofilm Group at the Dept. of Clinical Microbiology, Odense University Hospital, is based on innovative in vitro infection models intended to reproduce keys steps of pathogenesis. Liquid flow-assisted infection models are utilized to create accurate physiological hydrodynamic conditions and to obtain a controlled physicochemical micromilieu that simulates specific infection sites.
To assist the in vitro model research, the group has at its disposal various animal infection models, developed in collaboration with local hospital departments. The combined experimental platform enables detailed studies of infection pathogenesis and functions as a test platform for the development of novel antimicrobials and biocompatible device materials.
Lately, our research platform has been expanded to include experimental research in SARS-CoV-2, which utilizes our experience in cell-culture based infection models.
Current projects
Contagion risk among Covid-19 patients
The project analyzes the viral load in covid-19 hospitalized patients as well as in citizens. To do so, we have established one of DK's only SARS-Cov-2 experimental laboratories at the facilities of Winsløwparken, Odense, DK. Here, patient/citizen samples are cultured, and viral load estimated based on plaque assays. Throughout 2020 we have analyzed patient samples and assisted the assessment of whether contagious virus is present in these persons. Going into 2021, our analyses proceed into citizens samples, where a specific focus is on the contagion risk among people infected with the recent mutated versions of SARS-CoV-2
The project is funded by the Novo Nordisk Foundation.
https://novonordiskfonden.dk/da/nyheder/7-nye-projekter-faar-del-i-novo-nordisk-fondens-akutte-coronavirus-pulje/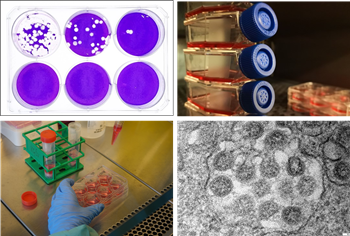 PRESORT - Cost-efficient pre-screening system for virus infections
Methods for faster detection of virus and estimation of viral load in patient samples are urgently needed. In this project we collaborate with the Danish Technical Institute to develop a rapid viral detection method based on fluorescence microscopy and staining methods.
The project is supported by the Danish Ministry og Higher Education and Science.
SVEET - Sugar-modified Vaccine Epitopes; Exploration and Translation
In this EU-funded project we collaborate with the SDU-spinoff GlyProVac (DK), Fraunhofer (DE) og Epitopic GmbH (DE) to develop and perform pre-clinical tests of a novel vaccine candidate against recurrent urinary tract infection. Preclinical evaluation is performed in our
porcine UTI model
recently developed.
The project is supported by the EU EUREKA - Eurostars Programme.
https://southdenmark.be/eu-millioner-til-start-up-der-vil-udvikle-en-vaccine-mod-urinvejsinfektion/

New treatment against Clostridium difficile infection
This project aims to elucidate the pathogenesis associated with Clostridium difficile intestinal infection. This organism is a major problem at hospitals worldwide, due to its resistance towards many antibiotics. Patients treated with antibiotics often lose their normal intestinal flora, leaving ideal conditions for C. diff. As a consequence, patients may become chronically infected with C. diff., resulting in significant morbidity among these patients. Using the in vitro intestinal infection models developed by the Clinical Biofilm Group, the colonization mechanisms by C. diff is investigated and novel treatment regimens are developed and tested. The project is funded by the Mica Foundation.
The project is funded by the MICA foundation and the model development by the SDU Research and Innovation Foundation.
Vancomycin-resistant enterococci: Intestinal colonization, transmission and epidemiology
The project utilizes the research groups' flow-chamber based intestinal infection model to assess the colonization efficiency of selected outbreak VRE strains. By doing so, we aim to assess the hypothesis, that certain outbreak VRE strains are specifically competent in rapid colonization of the human intestine, and that this might explain their uncontrolled spread in hospital departments.
The project is funded by the OUH Research Fund and the Region of Southern Denmark.
Urinary tract infections in patients with neurogenic bladder: Elucidation of pathogenesis for improved diagnosis and treatment
A project conducted in cooperation with the Dept. of Urology, Odense University Hospital, the Thrombosis Research Unit, Hospital of Southwest Jutland and the Danish medico company Coloplast A/S. The project is supported by the Region of Southern Denmark and Coloplast A/S and aims to elucidate urinary tract infection pathogenesis in high-risk patient groups.
The project is funded by the Region of Southern Denmark and Coloplast A/S

BacSens
A cross-disciplinary project in which the Clinical Biofilm Group collaborates with the Danish Fundamental Metrology Institute (DK), BacAlert IVS (DK) and art photonics GmbH (DE) with the common goal of developing next generation technology for fast identification of pathogenic bacteria.
The project is funded by the European Union EUREKA programme.
Read BacSens news article in "Ingeniøren" here (in Danish).
See BacSens press release here (in Danish).
The project is funded by EU's Horizon 2020 Eurostars program.

pURIcat
Project cooperation with Biomodics ApS (DK) and Venair Iberica SA (ES). Funded by the Horizon 2020 Eurostars Programme. In the project, a novel anti-infection balloon urinary catheter is developed.
The project is funded by EU's Horizon 2020 Eurostars program.
Read news article about pURIcat here (in Danish).
The project has ended. Main results from the project were recently published.
Current PhD-projects
Kristian Stærk
Elucidation of the role of Escherichia coli type-1 fimbriae in persistent cystitis and assessment of Low-Intensity Extracorporeal Shockwave Treatment to potentiate antibiotic susceptibility.
Recently defended PhD-projects
Kasper Klein, MD:
Treatment of device-associated infections with novel antimicrobial compounds: the effect of thioridazine, plectasin and novicidin on bacterial adhesion and biofilm formation.
Rasmus Birkholm Grønnemose, MSc:
Catheter-related Thrombosis: Pathogenesis and Prevention.
Rune Micha Pedersen, MD:
Shiga toxin-producing Escherichia coli: formation of biofilm, cellular destruction and activation of complement - an in vitro study.
Selected papers
Stærk K, Grønnemose RB, Palarasah Y, Kolmos HJ, Lund L, Alm M, Thomsen P and Thomas E. Andersen. A Novel Device-Integrated Drug Delivery System for Local Inhibition of Urinary Tract Infection. Accepted in Frontiers in Microbiology May 2021.doi: 10.3389/fmicb.2021.685698.

Birkholm Grønnemose R, Garde C, Søndergaard Wassmann C, Kudsk Klitgaard J, Nielsen R, Mandrup S, Holm Mattsson A, Andersen TE. Bacteria-host transcriptional response during endothelial invasion by Staphylococcus aureus. Scientific Reports 2021 Mar 16;11(1):6037. doi: 10.1038/s41598-021-84050-x

Nielsen TK, Petersen NA, Stærk K, Grønnemose RB, Palarasah Y, Nielsen LF, Kolmos HJ, Andersen TE and Lund L. A Porcine Model for Urinary Tract Infection. Front. Microbiol. 2019. 10:2564. doi: 10.3389/fmicb.2019.02564
Pedersen RM, Grønnemose RB, Stærk K, Asferg CA, Andersen TB, Kolmos HJ, Møller-Jensen J, Andersen TE*. A method for quantification of epithelium colonization capacity by pathogenic bacteria. Front. Cell. Infect. Microbiol. 2018;8:16. doi: 10.3389/fcimb.2018.00016.
Grønnemose RB, Saederup KL, Kolmos HJ, Hansen SWK, Asferg CA, Rasmussen KJ, Palarasah Y, Andersen TE*. A novel in vitro model for hematogenous spreading of S. aureus device biofilms demonstrating clumping dispersal as an advantageous dissemination mechanism. Cell. Microbiol. 2017 Dec;19(12). doi: 10.1111/cmi.12785.
Klein K, Grønnemose BG, Alm M, Brinch KS, Kolmos HJ, Andersen TE*: Slow release of Plectasin NZ2114 from a hybrid silicone-hydrogel material effectively prevents Staphylococcus aureus biofilms. Antimicrob. Agents Chemother. 2017;61: e00604-17.
Stenger M, Behr-Rasmussen C, Klein K, Grønnemose RB, Andersen TE, Klitgaard JK, Kolmos HJ, Lindholt JS. Systemic thioridazine in combination with dicloxacillin against early aortic graft infections caused by Staphylococcus aureus in a porcine model: In vivo results do not reproduce the in vitro synergistic activity. PLoS One. 2017 Mar 9;12(3):e0173362. doi: 10.1371.
Stenger M, Klein K, Grønnemose BG, Klitgaard J, Kolmos HJ, Lindholt JS, Alm M, Thomsen P, Andersen TE*. Co-release of dicloxacillin and thioridazine from catheter material containing an interpenetrating polymer network for inhibiting device-associated Staphylococcus aureus infection. J. Control. Release. 2016;241:125-134
Khandige S, Asferg CA, Rasmussen KJ, Larsen MJ, Overgaard M, Andersen TE*, Møller-Jensen J*. DamX controls reversible cell morphology-switching in uropathogenic Escherichia coli. mBio. 2016;7:e00642-16.
Stærk K, Khandige K, Kolmos HJ, Møller-Jensen J, Andersen TE*. Uropathogenic Escherichia coli express type-1 fimbriae only in sessile populations under physiological growth conditions. J. Infect. Dis. 2016;213:386-94.
Citterio L, Franzyk H, Palarasah Y, Andersen TE, Mateiu RV, Gram L. Improved in vitro evaluation of novel antimicrobials: potential synergy between human plasma and antibacterial peptidomimetics, AMPs and antibiotics against human pathogenic bacteria. Res. Microbiol. 2016;167:72-82.
Klein K, Palarasah Y, Kolmos HJ, Møller-Jensen J, Andersen TE*. Quantification of filamentation by uropathogenic Escherichia coli during experimental bladder cell infection by using semi-automated image analysis. J. Microbiol. Methods. 2015;109:110-116