Optical Imaging Facility:
The Optical Imaging part of the Core Facility includes a high performance Confocal Laser Scanning Microscopes, one Laser Capture Microdissection system and one in-vivo optical imaging instrument, IVIS.
Microscope location: J. B. Winsløws Vej 21 ground floor East, room 0.56.
IVIS location: J. B. Winsløws Vej 23, room 0.34.
Olympus FV1000MPE, Upright Single- and Multiphoton Fluorescence Microscope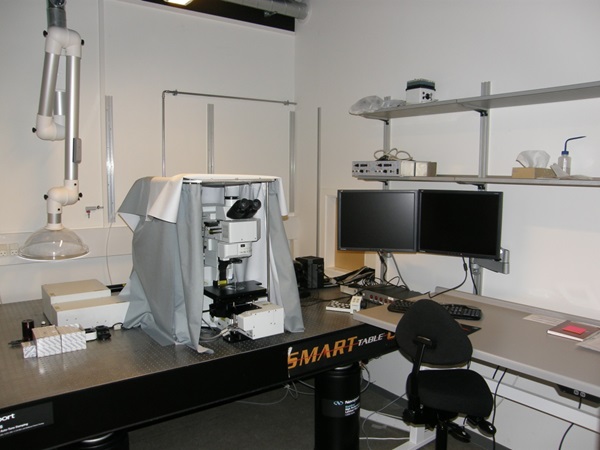 Excitation lasers: 405, 458, 488, 515, 559, 635, and a MaiTai DeepSee Titanium-sapphire laser (690-1040nm), which allows for imaging of structures at depths up to 1.1mm.
The Microscope includes the following options:
Multiphoton excitation allows for investigations on thick living tissue specimens that would not otherwise be possible with conventional imaging techniques.
Simultaneous Laser Light Stimulation and Imaging for a variety of applications, including FRAP, FLIP, photo-activation, photo-conversion, uncaging, laser ablation and many others.
Differential Interference Contrast revealing the topographical profile of the specimen.
For further information see PDF: FV1000 MPE
IVIS Spectrum, pre-clinical Optical Imaging (in vivo imaging system)
The IVIS uses an optical imaging technology to facilitate non-invasive longitudinal monitoring of disease progression, cell-trafficking and gene-expression patterns in live animals. You have the advantage of bioluminescent and fluorescent reports across the blue to near infrared wavelength region. Also single-view 3D-tomography is provided.
Laser Capture Microdissection (LCM), Olympus MMI CellCut
LCM is typically used to isolate ROIs (regions of interest) from tissue or single cells for further cloning, re-cultivation, manipulation or downstream analysis.
We deeply appreciate for Trevor Owens hereby providing us with this instrument.
Software and Data Analysis Workstations:
The FV1000MPE employ PC-based FV-ASW Olympus software. It also employs a Bitplane IMARIS software.
Data analysis workstation (PC), accessing shared Network server, are available for data processing.