Research interest
Our research concerns mechanisms underlying normal vascular function and identification of mechanisms that cause impaired vascular function and tissue perfusion in cardiovascular disease and with ageing. Our primary research strategy is to assess vascular function and regulation of skeletal muscle blood flow in human subjects by use of invasive procedures and pharmacological or training interventions. However, we also use human muscle tissue for in vitro measurements to further elucidate mechanisms.
Currently, we have ongoing studies in patients with type 2 diabetes that examine the role of ATP, aldosterone and endothelin in vascular dysfunction and insulin sensitivity. We also have ongoing projects that aim to identify the underlying mechanisms for the beneficial effects of exercise training in elderly and type 2 diabetics.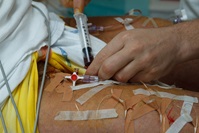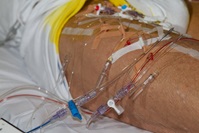 Methods and Techniques

- In vivo studies in patients with invasive procedures
- Pharmacological and training interventions
- Measurements of blood flow with ultrasound Doppler, thermodilution and contrast enhanced ultrasound (CEUS)
- Microdialysis in muscle and fat tissue.
- Intravascular microdialysis
- Muscle and fat biopsies
- Metabolic studies with stable isotopes
Staff
Courses
Physiology for medical, biomedical and pharmacy students. Exercise physiology for medican students and students in Sports Sciences

.
Collaborations
Bente Klarlund Pedersen (Center for Physical Activity, Rigshospitalet)
Ylva Hellsten (University of Copenhagen)
José Gonzalez-Alonso (Brunel University)
Oliver Baum (University of Bern)
Paul Fadel (University of Texas)
Collaborations with Odense University Hospital; Center for Individualized Medicine in Arterial Diseases (Lars Melholt Rasmussen), Department of Endocrinology (Michael Hecht-Olsen), Department of Nuclear Medicine (Poul Flemming Høilund Carlsen).
Funding
The Danish Research Council for Health and Disease

The Lundbeck Foundation

The Novo Nordisk Foundation

Trygfonden

Danish Diabetes Academy

Toyota Foundation

Odense University Hospital

Region of Southern Denmark
Selected publications
Mortensen SP, Egginton S, Madsen M, Hansen JB, Munch GDW, Iepsen UW, Åkerström T, Pedersen BK, Hellsten Y (2016). Alpha adrenergic receptor blockade increases capillarisation and fractional O2 extraction and lowers blood flow in contracting human skeletal muscle, Acta Physiologica, 2017, 221: 32-43.
Jensen L., Buess R., Nyberg M, Hoppeler H, Odriozola A., Thaning P, Hellsten Y, Baum O & Mortensen SP (2015). Capillary growth, ultrastructure remodeling and exercise training in skeletal muscle of essential hypertensive patients, Acta Physiol, 214: 210-20.
Mortensen SP, Nyberg M, Gliemann L, Thaning P, Saltin B, Hellsten Y (2014). Exercise training modulates functional sympatholysis and alpha-adrenergic vasoconstrictor responsiveness in hypertensive and normotensive individuals. J Physiol., 592: 3063-73.
Munch, GDW, Svendsen JH, Damsgaard, R, Secher NH, González-Alonso J, Mortensen SP (2014). Peak heart rate does not limit cardiovascular capacity in healthy humans. J Physiol. 592: 377-90.
Mortensen SP, Svendsen JH, Ersbøll M, Hellsten Y, Secher NH, Saltin B (2013). Skeletal muscle signaling and the heart rate and blood pressure response to exercise: insight from heart rate pacing during exercise with a trained and a deconditioned muscle group. Hypertension, 61:1126-33.
Mortensen SP, Nyberg M, Winding K, Saltin B (2012). Lifelong physical activity preserves functional sympatholysis and purinergic signaling in the ageing human leg. J Physiol., 590: 6227-36.
Saltin B & Mortensen SP (2012). Inefficient functional sympatholysis is an overlooked cause of malperfusion in contracting skeletal muscle (Invited review). J Physiol., 590:6269-75
Nyberg M, Blackwell, Damsgaard R, Jones AM, Hellsten Y, Mortensen SP (2012). Lifelong physical activity prevents an age-related reduction in arterial and skeletal muscle nitric oxide bioavailability in humans. J Physiol., 590: 5361-5370.
Nyberg M, Jensen LG, Thaning P, Hellsten Y, Mortensen SP (2012). Role of nitric oxide and prostanoids in the regulation of leg blood flow and blood pressure in humans with essential hypertension: effect of high-intensity aerobic training, J Physiol., 590: 1481-94.
Mortensen SP, Thaning P, Nyberg M, Saltin B, Hellsten Y (2011). Local release of ATP into the arterial inflow and venous drainage of human skeletal muscle: insight from ATP determination with the intravascular microdialysis technique, J Physiol,.589:1847-57.
Mortensen SP, Nyberg M, Thaning P, Saltin B, Hellsten Y (2009). Adenosine contributes to blood flow regulation in the exercising human leg by increasing prostaglandin and nitric oxide formation. Hypertension. 53:993-9.
Mortensen SP, González-Alonso J, Damsgaard R, Saltin B, Hellsten Y (2007). Inhibition of nitric oxide and prostaglandins, but not endothelial-derived hyperpolarizing factors, reduces blood flow and aerobic energy turnover in the exercising human leg. J Physiol,. 581: 853-861.
Mortensen SP, Dawson EA, Yoshiga CC, Dalsgaard MK, Damsgaard R, Secher NH, González-Alonso J (2005). Limitations to systemic and locomotor limb muscle oxygen delivery and uptake during maximal exercise in humans. J Physiol., 566: 273-285.