Professor Jo De Mey
Cardiovascular and Renal Research
CV, Research Output
Phone: +45 6550 3757
Email: jdemey@health.sdu.dk
Download:
Research interests
High blood pressure is a disease of small resistance-sized arteries. In more than 20 % of hypertensive patients, blood pressure can not be controlled by a combination of 3 different drugs. This invites to search for new anti-hypertensive treatments.
Patients with hypertension show increased peripheral arterial resistance and endothelial dysfunction. This involves altered structure of the resistance sized arteries (ø100-300µm) and a shift from endothelium-dependent vasodilatation to -constriction.
Using human patient pericardial resistance arteries, we pursue investigating the following topics:
The importance of (dysregulated) cell-cell communication, endothelial function, and sensorimotor nerve signalling in controlling vasomotor responses.
Arterial remodeling in hypertension and diabetes – structure and function of the extracellular matrix.
Molecular pharmacology of 7-transmembrane receptors (G-protein Coupled Receptors) in relation to pharmacotherapy of cardiovascular diseases.
Influence of perivascular adipose tissue and adipose tissue-derived hormones on vasomotor responses.
Novel drug targets in resistance arteries of cardiovascular disease patients.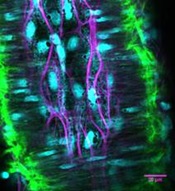 Methods and Techniques
Microdissection of human resistance arteries

Pharmacological experiments – wire myography

Arterial wall mechanics – pressure myoraphy

Cell cultures of primary cells

Biochemical analyses (ELISA, Western Blotting)

Histology – standard staining techniques ad immunohistocemistry

Two-photon excitation fluorescence microscopy and spectroscopy
Staff
Courses
Pharmacology for medical, biomedical and pharmacy students
Collaborations
CIMA – Center for Individualized Medicine in Arterial Diseases
Dept. CardioThoracic- and vascular surgery, Odense University Hospital
Dept. Endocrinology, Odense University Hospital
Li Ka Shing Faculty of Medicine, Hong Kong University, Hong Kong (PRC)
CARIM – Cardiovascular Researc Institute Maastricht, Maastricht UniversityImmunoprecipitation
Membership in Societies
British Pharmacological Society
American Society for Pharmacology and Experimental Therapeutics
European Vascular Biology Organisation
European Society for Cardiology

European Council for Cardiovascular Research
Funding
The Council for Independent Research
University of Southern Denmark

Odense University Hospital
Selected publications
De Mey JG, Vanhoutte PM. End' o the line, revisited; moving from NO to CGRP. Life Sciences 2014. (in Press)
Brouwers O, Niessen PM, Miyata T, Østergaard JA, Flyvbjerg A, Peutz-Kootstra CJ, Sieber J, Mindel PH, Brownlee M, Janssen BJ, De Mey JG, Stehouwer CD, Schalkwijk CG. Glyoxalase-1 overexpression reduces endothelial dysfunction and attenuates early renal impairment in a rat model of diabetes. Diabetologia 2014 Jan; 57: 224-235.
Compeer MG, Janssen GM, De Mey JG. Endothelin-1 and Endothelin-2 Initiate and Maintain Contractile Responses by Different Mechanisms in Rat Mesenteric and Cerebral Arteries. Br J Pharmacol. 2013 Aug 14. doi: 10.1111/bph.12332. [Epub ahead of print]
Chennupati R, Lamers WH, Koehler SE, De Mey JG. Endothelium-dependent hyperpolarization-related relaxations diminish with age in murine saphenous arteries of both sexes. Br J Pharmacol. 2013 Aug;169(7):1486-99. doi: 10.1111/bph.12175.
Lemkens P, Nelissen J, Meens MJPMT, Janssen BJA, Schiffers PMH, De Mey JGR. Dual NEP/ECE inhibition improves endothelial function in mesenteric resistance arteries of young SHRs. J Hypertension 30 (9): 1799 – 1808, 2012.
Compeer MG, Meens MJ, Hackeng TM, Neugebauer WA, Höltke C, De Mey JG. Agonist-dependent modulation of arterial endothelin(A)-receptor function. Br J Pharmacol. 166: 1833 – 1845, 2012.
Meens MJ, Mattheij NJ, van Loenen PB, Spijkers LJ, Lemkens P, Nelissen J, Compeer MG, Alewijnse AE, De Mey JG. G-protein βγ subunits in vasorelaxing and anti-endothelinergic effects of calcitonin gene-related peptide. Br J Pharmacol. 166: 297 -308, 2012.
van den Akker J, van Bavel E, van Geel E, Matlung H, Tuna B, Janssen G, van Veelen P, Boelens W, De Mey JGR, Bakker E. The redox state of transglutaminase 2 controls arterial remodeling. PLoS ONE 6(8), e23067, 2011
Meens MJPMT, Mattheij N, Nelissen J, Lemkens P, Compeer MG, Janssen B, De Mey JGR. CGRP terminates long-lasting vasopressor responses to endothelin-1 in vivo. Hypertension 58(1), 99-106, 2011.
De Mey JGR, Compeer MG, Lemkens P, M Meens MJPMT. Endothelin ETA-receptor antagonists or allosteric modulators. Trends in Pharmacological Sciences 32(6), 345-351, 2011.