Other participants in the research group
Torben Spanget Christensen, PhD, associate professor, Department for the Study of Culture, University of Southern Denmark
Niels Bonderup Dohn, PhD, associate professor, Department of Education, University of Aarhus
Nikolaj Frydensbjerg Elf, PhD, associate professor, Department for the Study of Culture, University of Southern Denmark
Peter Hobel, PhD, associate professor, Department for the Study of Culture, University of Southern Denmark
Steffen M. Iversen, PhD-stipend, Department for the Study of Culture, University of Southern Denmark
Karen Sonne Jakobsen, associate professor, Institute of Culture and Identity, University of Roskilde
Lena Lindenskov, PhD, associate professor, Department of Education, University of Aarhus
Anke Piekut, PhD, post.doc., Department for the Study of Culture, University of Southern Denmark
Ole Togeby, dr. phil., professor, Institute of Nordic Language and Literature, University of Aarhus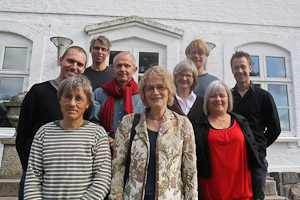 International resource group
The following researchers from research environments central and relevant to the project have agreed to take part in an academic resource group:
Jon Smidt, professor, Sør Trøndelag University College, Norway.
Vibeke Hetmar, professor, Department of Education, University of Aarhus.
Mona Blåsjö, dr., lecturer, Stockholm University, Sweden.
Gunther Kress, professor, School of Education, University of London, England.
Helmut Vollmer, professor, Osnabrück University, Germany.
Frøydis Hertzberg, professor, University of Oslo, Norway.
Gestur Guðmundsson, University of Reykjavik, Iceland.   
International resource group,
Haraldskær meeting,
september 2011.

Danish research group and international resource group (those who could participate) at the third and last meeting at Haraldskær, september 2013.

A break during
the Haraldskær 2013 meeting.

Ellen Krogh presents a paper at the Haraldskær 2013 meeting.

Ekscursion to the Jelling Monument,
including the Jelling Stone, with
the international resource group
during the Haraldskær 2013.

Jon Smidt comments work by the research group, 2013.