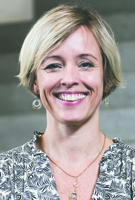 My research concerns collaborations and networks in business markets.
When companies strategize and aim for (new) business goals they are driven by an interest to gain specific business outcomes – e.g. building a (more) sustainable business, creating value with a customer or do innovations and business development to enter new markets. In most cases, they need to collaborate with others to achieve these goals and relate to the wider business network to see outcomes materialise.
This means that they cannot only pay attention to their own business interests but need to pay attention to the interests of others and make an effort for understanding mutual and collective interests.
Some of the most recent trends influence company strategizing and networking. E.g. Digitalization, Circular Economy and Sustainability issues. These require companies to transform their business models, to find new ways to collaborate and engage in (new) business networks and markets.
I aim to contribute with insights on how companies can better manage as these trends affect business collaborations and business networks. Therefore, I gladly engage with companies and networks discussing the possibilities and challenges of business collaborations.
In general, my research interests and competences are centred around Business-to-Business Marketing, Sustainability and Innovation.
About and Contact
Kristin B. Munksgaard at SDU's Research Portal, Pure
A Selection of Projects