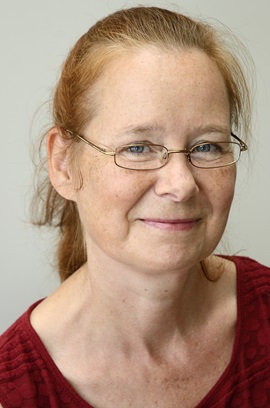 Position
Research Areas
Pragmatics, Discourse and Conversation
Human-Computer and Human-Robot Interaction
Construction Grammar
Discourse Markers and Modal Particles
Addressee-orientation & Recipient Design
Document Design
Current Projects
Research Output and Activities
For an overview about Kerstin's work please see her researcher's profile at SDU. For full texts, please see her profile on ResearchGate.
Most important publications
Fischer, Kerstin (2016): Designing Speech for a Recipient: The Roles of Partner Modeling, Alignment and Feedback in So-Called 'Simplified Registers'. Amsterdam: John Benjamins.
Fischer, Kerstin (2015): Conversation, Construction Grammar, and Cognition. Language and Cognition 7: 563-588.
Fischer, Kerstin (2010): Beyond the Sentence: Constructions, Frames and Spoken Interaction. Constructions and Frames 2(2), 185-207.
Fischer, Kerstin (ed.) (2006): Approaches to Discourse Particles. Studies in Pragmatics 1. Amsterdam: Elsevier.
Fischer, Kerstin (2000): From Cognitive Semantics to Lexical Pragmatics: The Functional Polysemy of Discourse Particles. Berlin, New York: Mouton de Gruyter.
Kerstin is Senior Associate Editor of the international journal Transactions in Human-Robot Interaction and Associate Editor of the book series Studies in Pragmatics (Brill).
Contact
University of Southern Denmark
Department of Design and Communication
Alsion 2
6400 Sønderborg (Denmark)
Mail kerstin@sdu.dk
Phone +45-6550-1220