Project Team
Principal Investigator: Kerstin Fischer
Project Coordinator: Norbert Krüger
PhD student: Rosalyn Melissa Langedijk
This project is funded by Innovationsfonden (2017-2020).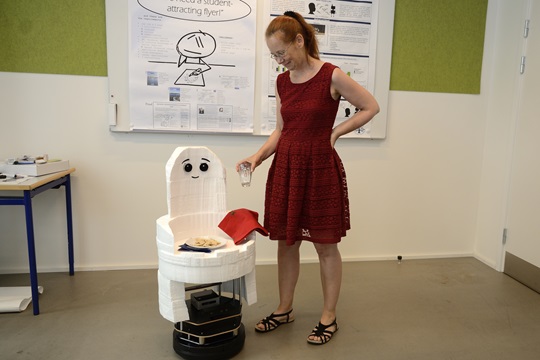 Kerstin Fischer illustrates the set-up of an experiment on persuasive dialog using a rough prototype of the robot to be built in the project.
About the project
The SMOOTH project aims at creating a support robot for elderly people. A multidisciplinary team is developing a commercial viable robotic solution that can be operated e.g. in residential care homes.
We contribute to SMOOTH by research in the subsequent areas:
a) Persuasive dialog
Our results so far show that the more the robot is taking the communication partner into account, the more persuasive the dialog.
b) The effects of responsivity of robot behavior
For example, we investigate the interactional effects of contingent robot response.
c) The role of incremental speech processing and synthesis
Our experiments show, for instance, that interactions are more efficient, when using incremental speech synthesis.
Activities & Publications