Seminar at the Christian-Albrechts-University in Kiel
Our second semester ERM master students participated in a two-days joint seminar at Christian-Albrechts-University of Kiel from the 1st to the 2nd of June. Both the students from Kiel and our ERM students made presentation of various topics related to environmental economics in front of a larger audience.
The master students from the course "Advanced Environmental and Resource Economics" were travelling to Kiel by train together with their lecturer Urs Steiner Brandt on Thursday morning.
Kiel welcomed the students with beautiful sunny weather. Due to the limited time frame the seminar continued right after the students from Esbjerg arrived at the Audimax in Kiel.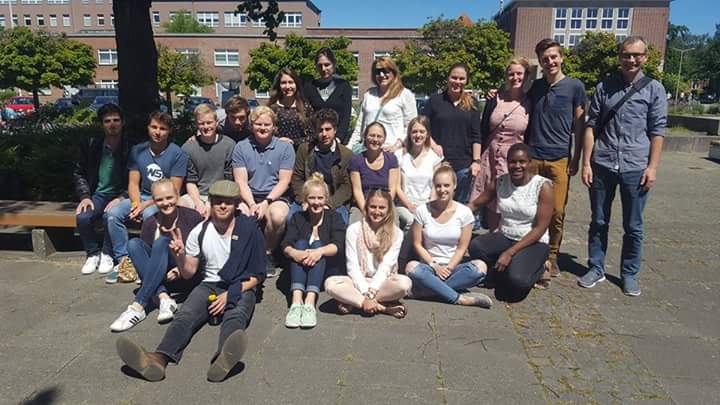 With topics ranging from the "Social cost of deforestation" or "The environmental impact of food waste" to "Measuring the utility of recreational freshwater anglers - a comparison of two approaches" or "Circular Economy" the seminar was quite diverse and really interesting. The approximately 20 Minutes long presentations were followed by 10 minutes of question and answer sessions. Both the students from Kiel as well as the SDU students participated actively in the discussions.
After a long day of travelling and presentations, the students went for a joined dinner at the "Forstbaumschule", enjoying the last bits of sun, sitting outside talking and socializing. The seminar continued on Friday morning until around 3 pm, when the SDU students went on their journey back to Esbjerg.
Urs Steiner Brandt about the seminar: "The presentations were on a high and inspiring academic level. All in all, the trip was rewarding both academically, but certainly also socially, and was well arranged in all respect including the 4 hours' train trip and the nice evening at the outdoor restaurant in the nice weather. We will definitely continue this tradition next year."
Back to the news list