This is a roundtable discussion that will traverse a number of aspects of the PhD experience and beyond, reflecting on the opportunities and strategies for building a research career in the social sciences. Fred Wherry, economic sociologist and Professor of Sociology at Yale University, shares his experiences on a range of topics related to establishing a successful research career, including his own research interests, building a CV and establishing his research trajectory, on working at Yale's Centre for Cultural Sociology, best-practice publishing approaches, and on his experiences preparing PhDs for the job and postdoc market.
Fred will make a short presentation, followed by a roundtable Q&A discussion.
The atmosphere will be informal and conversational and is designed for early-career and PhD researchers, though it is also open to all.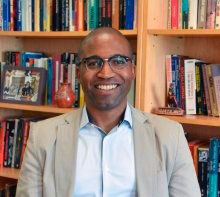 Frederick Wherry is Professor of Sociology at Yale University, Co-Director of the Center for Cultural Sociology, and a Fellow at Yale's Institute for Social and Policy Studies. He is the editor of the four-volume Sage Encyclopedia of Economics and Society (2015), the co-editor with Nina Bandelj and Viviana Zelizer of Money Talks (forthcoming 2017, Princeton University Press).
He is also the author of several other books. With Jennifer Lena and Greta Hsu he is co-editing the Culture and Economic Life book series at Stanford University Press. Last year he served as Chair of the Consumers and Consumption Section and is Chair-Elect of the Economic Sociology Section. He also represents the American Sociological Association the Policy Board of the Journal of Consumer Research.
Questions?
Contact Ian Woodward at email iawo@sam.sdu.dk