Life table measures, particularly life expectancy, are commonly used markers of success in medicine and public health and are used to track trends over time, among demographic and ethnic groups, and across countries. For policymakers life expectancy influences estimates of the financial solvency of retirement systems. Because life expectancy, and life tables estimates have such economic and political implications they are subject to intense scrutiny.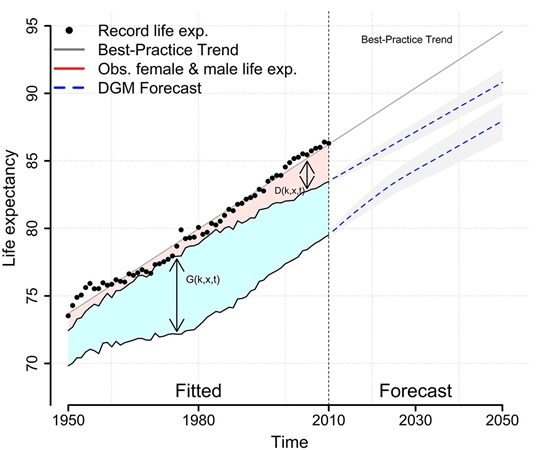 Actual and forecast life expectancy at birth generated by the Double-Gap Model for Swedish females and males, 1950-2050.
At CPop, the development of innovative methods to forecast health and longevity are at the core of our interest. Our methodologies range over all life table functions, from single life expectancy, to age-specific distribution of deaths and their causes of death profile. Our findings have implications for employment, education, and the various far-reaching changes resulting from longer, healthier lives and population aging.

We consider consequences of the forecasts for individuals, for the health care system and for the economy and society more generally - and the implications for policy. Thus, our findings are relevant to business, government leaders and the media.
As individuals live longer and longer and if the span of healthy life increases commensurably, then societies and people may want to redistribute the work and leisure of their lives over more years of life.