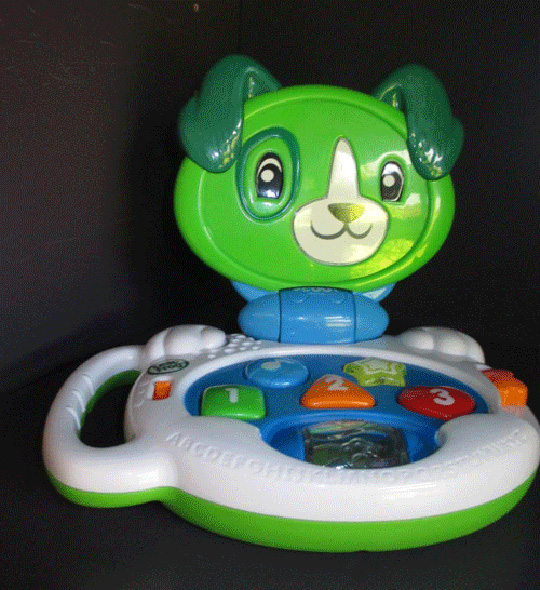 In this baby laptop, recommended in an accompanying leaflet as "a foundation for language and literacy development", a puppy dog is the teacher.
"Hello", he says, in a childish voice, his face lighting up: "Do you want to play? Can you find the number two?"
When baby presses the orange button with the number two on it, he responds enthusiastically: "Number Two! One-Two! Orange triangle! Wraf Wraf!". When she presses the blue button, he sings the alphabet, to a happy tune. And so on. "40+ learning activities and songs for baby to explore"
But learning is piecemeal, prone to distraction, interrupted by play. "Can you push my biscuit up to my paw? Thank you".
"Do you want to play peek-a-boo?" (this can be done by lifting and closing the lid – "Peek-a-boo", says the dog when the lid is opened again).
So baby learns – about letters and numbers and geometrical shapes, but above all about what a laptop is – a constant to and fro between learning and distraction, instruction and entertainment. And an object that must be loved – a faithful dog wanting to be touched, but ultimately taking you by the lead.
Wraf wraf.