ABS Summer Virtual Seminars
June 3-4, 2020. Borders in the time of COVID-19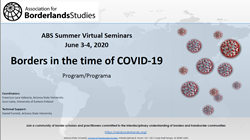 Our colleagues Dr. Martin Klatt and Dr. Jaume Castan Pinos will take part in this year's Summer Virtual Seminars organized by the Association for Borderlands Studies (ABS). Two European sessions are planned from Sønderborg, one on "Border building and bordering narratives" on June 3rd and a roundtable on June 4th.
DASTI Workshop on Transnational Extremist Organizations
On September 19-20, the Division of Global Affairs at Rutgers – The State University of New Jersey will be hosting an international workshop on "Transnational Extremist Organizations". The workshop builds on an exploratory collaboration between the Department of Political Science at the University of Southern Denmark, Northeastern University, and the United Nations Counter-Terrorism Executive Directorate.
The aim of this workshop funded by the Danish Agency for Science, Technology and Innovation (DASTI) and coordinated by Associate Professor Olivier J. Walther is to address the development of transnational extremist organizations from a multidisciplinary perspective. This exploratory collaboration will primarily focus on regions of the world where national borders are particularly porous, such as Africa and the Middle East. The workshop will bring together 20 academics and policy makers from the U.S., Canada and Denmark and serve to develop a common analytical and methodological framework.
Download the program of the workshop here.