Obituary for Helle Johannessen
Helle Johannessen, professor and head of research at Department of Public Health has passed away. She was 61.
It is with great sadness that we have received the news that our good colleague, professor and head of research Helle Johannessen has passed away on Monday, September 10, 2018.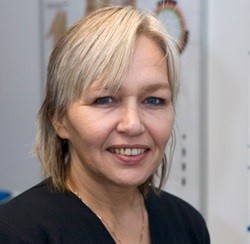 Helle Johannessen completed a Master of Arts (MA) degree in anthropology in 1984 at University of Copenhagen, where she also completed her PhD in 1994. She has been employed by University of Copenhagen, University College Absalon in Slagelse (the former Slagelse Seminarium), and School of Pharmaceutical Sciences (the former Danmarks Farmaceutiske Højskole), and then joined the University of Southern Denmark in 2001. In the period 2001-2004 she was associate professor at the Department of Sports Science and Clinical Biomechanics, and in 2005 she moved to the Department of Public Health where she became professor in 2007.
Helle Johannessen had a forceful and strong personality and possessed a keen intelligence. She was a hard-working and highly respected head of research with a talent for and the will to assemble researchers in a joint effort on common tasks; for example, most recently she set up and managed the Research Unit of User Perspectives at the Department of Public Health, University of Southern Denmark.
Helle Johannessen was an advocate for and strong proponent of the inclusion of qualitative health research in health science research – here she was a role model, also among international collaborators. She had an eye for the underprivileged and always aimed to make research useful for patients and citizens.
Helle Johannessen had a strong sense for the details in the professional life of the individual, always ready with good advice and guidance and with a keen eye for the best and most effective solution.
We have lost a professionally competent and talented colleague, but above all our thoughts go to Helle's family – her husband, children and grandchildren have lost someone irreplaceable.
Jesper Bo Nielsen
Department of Public Health