New adjunct professor to the Department of Plastic Surgery
The University of Southern Denmark has appointed Andrew Salzberg as adjunct professor to the Department of Plastic Surgery
The collaboration will focus on research within the field of breast reconstruction and innovative plastic surgery through collaborative research projects and exchange of young researchers.
Andrew Salzberg is chief and professor of the division of plastic surgery at the Icahn School of Medicine, Mount Sinai Health System, New York, NY. Professor Salzberg is an internationally recognized researcher and speaker within the field of breast reconstruction. He pioneered the development and use of acellular dermal matrix (ADM) for direct to implant breast reconstruction. Professor Salzberg's work and experience has changed our clinical practice and the way we perform immediate breast reconstruction. We have published 6 common peer-reviewed papers in international journals. Besides collaborative research and publications we aim to exchange ideas and researchers across the Atlantic.
Professor Salzberg visits the University of Southern Denmark and the Department of Plastic Surgery, Odense University Hospital in September 2019. More information about the inaugural seminar will follow.
Contact:
Clinical associate professor Jørn Bo Thomsen, MD, PhD, jbthomsen@health.sdu.dk
Professor Jens Ahm Sørensen, MD, PhD, jsoerensen@health.sdu.dk
New adjunct professor to the Department of Plastic Surgery and Department of Clinical Research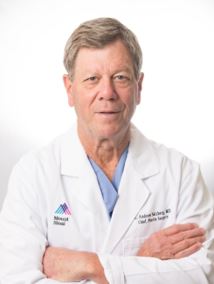 Charles Andrew Salzberg is chief and professor of the division of plastic surgery at the Icahn School of Medicine, Mount Sinai Health System, New York, NY