It is thus characteristic for the quality organization that the Vice-Chancellor has overall responsibility for ensuring that internal and external requirements to the study programmes and their quality are translated into good practice. The management structure in the quality organization therefore reflects SDU's management structure from the Vice-Chancellor, via the Deans to the direction of studies of each individual programme.
The practical quality effort must be conducted as close to the study programmes as possible through the direction of studies, student administration and activities of the individual teachers.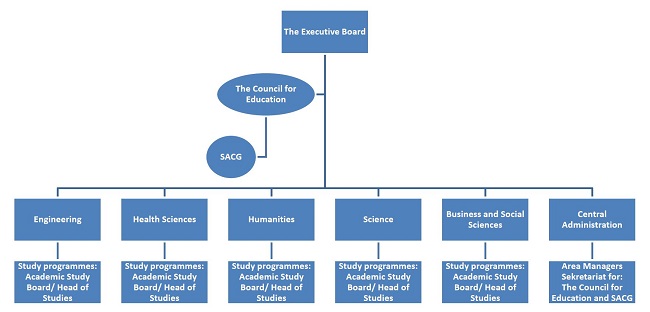 The Council for Education
The quality organization is anchored in the management structure through the Council for Education, which is SDU's coordinating forum for strategic questions concerning education. The Council for Education ensures on behalf of SDU's Executive Board that the development of study programmes and quality assurance of programmes and teaching are anchored in management.
The Council ensures that the development of the quality system is always in compliance with the Danish accreditation system. Moreover, the Council ensures the integration of additional quality control elements in the overall quality assurance and enhancement efforts at SDU.
The Council continuously follows up on and assesses the quality of SDU's study programmes in accordance with the quality policy.
The Council for Education consists of the Vice-Deans for Education at the faculties of Business and Social Sciences and Humanities, the Head of the Coordination Committee of the Faculty of Science, the Director of Studies of the Faculty of Engineering, the Head of Education at the Faculty of Health Sciences, the Head of Academic Administration and the Pro-Vice-Chancellor (chairman).
The Study Administrative Coordinating Group
Two implementation groups have been set up to support the quality assurance and enhancement efforts: The Student Administrative Coordinating Group (SACG) for the student administration and for the quality assurance and enhancement efforts. The members of the groups are administrative staff members from the five faculties and the Central Administration.