If you and your business need inspiration or a creative kick-off, then book the MCI Innovation Lab, a space that, through unique surroundings and state-of-the-art technology, can develop high-flying, airy ideas into new, concrete products. The space is divided into four areas, each symbolizing a part of the innovation process, starting from the concept creation to prototype development before it ends with first production and finally the business aspects of a given idea. Further information and contact information can be found here.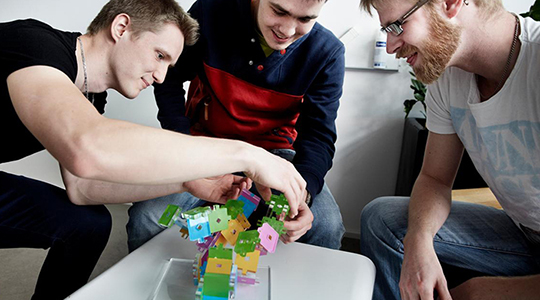 SDU RIO provides companies good prerequisites for acquiring new skills and new knowledge. With our help, companies can help find an intern who comes with new ideas, specific knowledge, feedback, workshops and lectures. Contact SDU Sønderborg RIO.
The Mads Clausen Institute (MCI) deals with key societal challenges in the 21st century focusing on climate, intelligent production, health and innovation. Our research capabilities cover a wide range of nanotechnologies, mechatronics and electronics, upscale solar cells and other intelligent devices for innovation and entrepreneurship. Contact and further info.