The University of Southern Denmark generally guarantees accommodation to all international students* moving to Denmark to study. If you already live in Denmark when you apply, you are last in line for accommodation.
The guarantee only applies to applicants who are applying to become students by May 1/November 1 and who are applying for accommodation as well.
*An international student is a Degree Student coming to Denmark to study a degree offered in English or an exchange or guest student coming to Denmark to study
This page contains general accommodation information. If you know which campus city you'll study in, follow the links to the individual campus for more information.
The typical accommodation we can provide you would be:
A room in a hall of residence (kollegium), price: 260-400 euro per month.
A privately rented room in a house or a flat, price: 250-500 euro per month.
A privately rented flat - either alone or shared with other students, prices vary considerably.
Here is general information that concerns all accommodation offered by SDU.
We have five academic faculties and five campuses. Each campus has its own accommodation office. Follow the campus pages to the right to see what is available to you.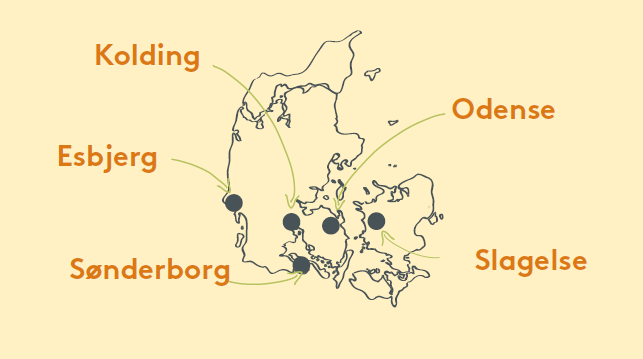 | | | | | | |
| --- | --- | --- | --- | --- | --- |
| Faculty of... | Odense | Kolding | Esbjerg | Sønderborg | Slagelse |
| Health | X | | X | | |
| Science | X | | | | |
| Engineering | X | | | X | |
| Humanities | X | X | X | X | X |
| Business and Social Science | X | X | X | X | X |
Jekaterina from Latvia studied Business, Language and Culture.
Best experience?
For me the best experience was living with my flatmates. I always lived alone and I couldn't imagine sharing a house with FIVE other people and only one bathroom! I thought: it's going to be a nightmare.
In reality, it turned out to be the exact opposite! Maybe I was lucky, but my flatmates became my real friends.
Tell us about living in Denmark
I've learned that there's no such thing as bad weather for cycling and there's no such thing as an inappropriate outfit for cycling. I've learned that rain is just rain, wind is just wind and it shouldn't affect your plans. I'm used to cycling in minus 13 degrees, or in heavy rain, still wearing a miniskirt and heels!