Ole Nørregaard Jensen research group web page
Research description
Imaging mass spectrometry – a new look at biological specimen
Mass spectrometry (MS) is a versatile analytical technology that provides detailed information on the biomolecular profiles of biological samples. Imaging mass spectrometry reveals the spatial distribution of biomolecules (proteins, peptides, lipids, glycans, drugs, metabolites) in thin tissue section. The great advantage of imaging MS lies in the capability of imaging hundreds of different biomolecules in a single experiment while not relying on any additional reporter molecules such as antibodies or fluorescent labels.
Here at SDU we study the distributions of proteins, peptides, lipids and glycans in mammalian tissues in the context of diseases, such as kidney cancer or liver fibrosis by using imaging MALDI mass spectrometry. We are optimizing sample preparation to achieve high spatial resolution and detailed molecular information. With partners at Odense University Hospital (OUH) we apply imaging MALDI MS as a diagnostics and prognostics tool for clinical applications and for improving therapeutic treatment of patients.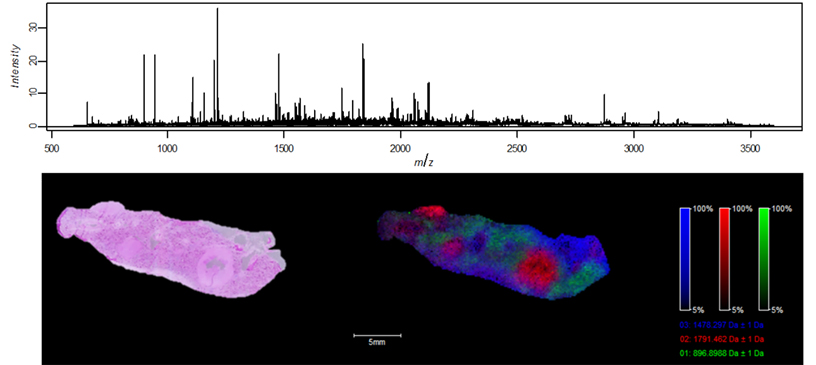 Figure 1. Imaging MALDI MS peptide profiling data from a formalin fixed paraffin embedded (FFPE) human kidney section of a patient diagnosed with renal oncocytoma.
The top panel shows the accumulated mass spectrum over the entire tissue section.
The lower panel shows HE-stained tissue section (left) and the peptide ion intensity distribution of 3 different molecules (m/z= 1478.3, 1791.5, 896.9; blue, red, green) (right). These peptides exhibit different intensity distributions within the tissue. Tumor islets (red) are readily distinguished from the rest of the tissue by m/z= 1791.5 peptide signal. Complementary LC-MS/MS experiments of the tissue identified this peptide to be part of the actin protein (amino acid sequence SYELPDGQVITIGNER).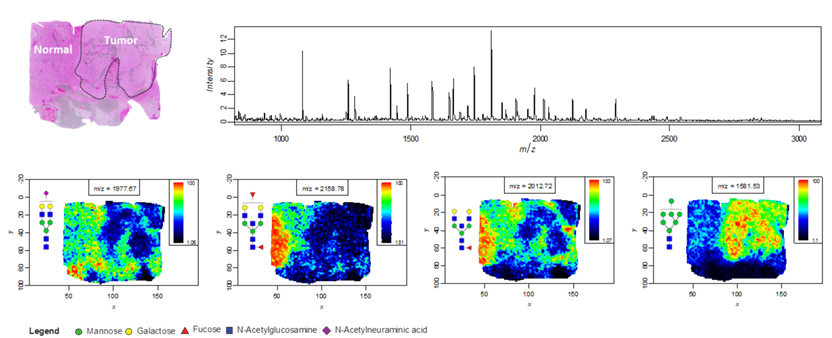 Figure 2. N-glycan profiling of cancer tissue by imaging mass spectrometry.
Data was obtained from a formalin fixed paraffin embedded human kidney section from a patient diagnosed with clear cell renal carcinoma (ccRCC). The top left image shows the HE stained tissue section. The top right panel displays the accumulated imaging mass spectrum acquired across the entire tissue section. The lower panels shows the molecular distribution of selected glycan species in this tumor tissue section. The tumor tissue displays distinct differences in abundances of certain glycans structures (exemplified by m/z= 1581.53). Furthermore an increase of these structures can be observed from the tumor borders towards the center of the tumor.
Imaging mass spectrometry equipment:
Location:
SDU Department of Biochemistry and Molecular Biology
VILLUM Center for Bioanalytical Sciences / DAMBIC
Room V10-510a-2
Contact: Professor Ole Nørregaard Jensen
Imaging MALDI TOF MS instrument:
•
UltrafleXtreme
-II tandem mass spectrometer (
Bruker
, D)
•
Spatial resolution: 20 µm
•
Laser:
S
martbeam
-II™
laser,
repetition rate
2
kHz
•
M
ass resolving power: up to 40000 FWHM
•
MS/MS mode: LID-LIFT and CID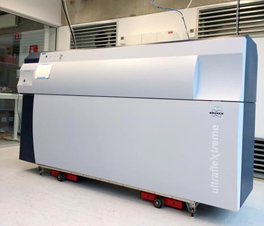 Imaging MS sample preparation equipment (room: V7-510-1)
ImagePrep (Bruker, D)
•
Deposition
of MALDI matrix by
piezo
electric
vibration
•
In
situ
enzymatic
treatment
(
protease
,
glycosidase
,
etc
)
iMatrixSpray (Tardo, CH)
Deposition of MALDI matrix by pneumatic spray