Registration deadline has past.
The meeting will include talks from international and Danish world leading researchers, plus a 1 day hands on workshop (on the 3rd of October) involving data analysis of super resolution / single molecule data and image correlation spectroscopy for interested graduate students (open for other interested faculty/staff). Besides scientific talks there will be a poster session.
Keynote speaker: Jennifer Lippincott-Schwartz, Janelia Research Campus, USA, "Uncovering the organelle interactome: dynamic imaging of organelles at high spatial-temporal resolution".
Confirmed speakers:
Jonas Ries, EMBL, Heidelberg, Germany, "Towards structural cell biology using superresolution microscopy".
Rainer Heintzmann, Friedrich Schiller University, Jena, Germany, "Lightwedge and Lightsheet-Raman Microscopy".
Paul Wiseman, McGill University, Montreal, Canada, "Image correlation spectroscopy methods reveal mesoscale regulation of podosome turnover in human dendritic cells".
Jakub Sedzinski, Danish Stem Cells center, "How to fit in? Mechanics of epithelial cell renewal in vivo".
Marja Jäättelä, Danish Cancer Society,"Lysosomal leakage - more than a cell suicide mechanism".
Christian Janfelt, Department of Pharmacy, Copenhagen Uni, "Mass spectrometry imaging by DESI and MALDI for specific imaging of non-labelled compounds in biological tissues".
Kedar Netarajan, University of Southern Denmark, "Cell cycle and transcriptional dynamics in embryonic stem cells at the single cell level".
Victoria Birkedal, Aarhus University, "Single molecule FRET analysis of conformational dynamics".
Zachary Glover, University of Southern Denmark, "Nano to Macro scale investigation of the reconstitution, structure and formation of dairy systems and gels: Use of Super-resolution microscopy and Ultrasound Spectroscopy".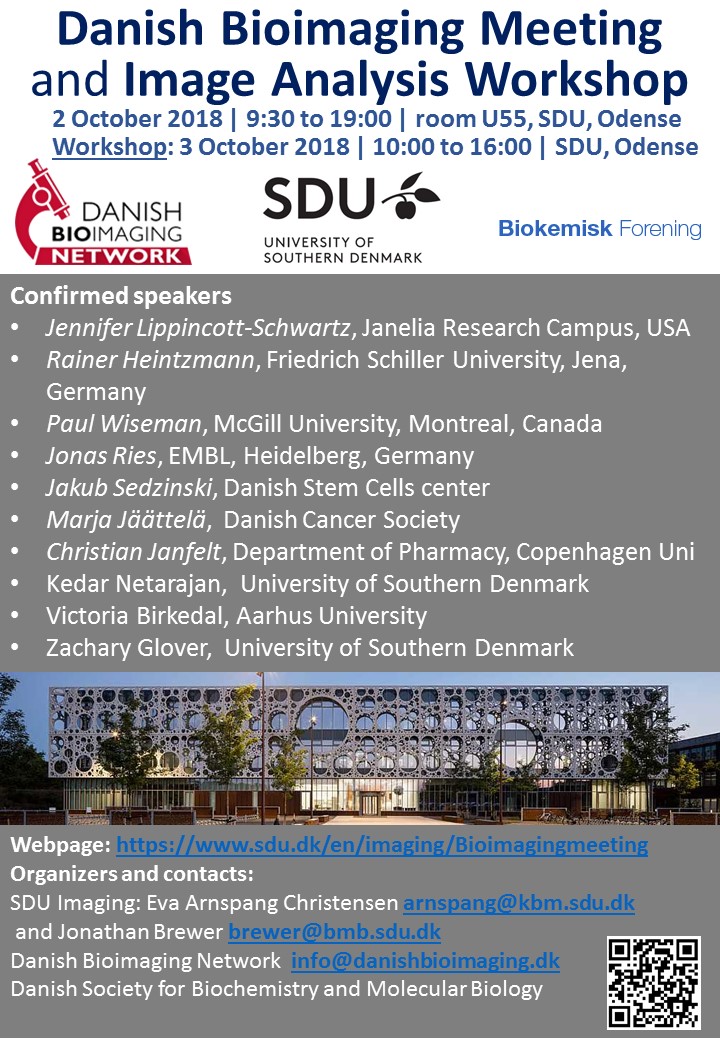 Registration is open until the 20th of September 2018.
Organizers
Eva Arnspang Christensen (KBM)
Jonathan Brewer (BMB)
DBI organizes a session dedicated to the Danish Bioimaging Network.