Research in, and knowledge about, trauma-related disorders, is important in order to help people reduce both acute and chronic disorders. The Danish National Centre of Psychotraumatology has the highest expertise in the country in acute stress disorder (ASD), post-traumatic stress disorder (PTSD) and complex PTSD. The Centre has also published a number of reports and scientific papers, all of which can be found on this website. We focus on these broad areas:
- Work
- Children
- Catastrophes
- War
- Culture
- Rehab
- Illness
- Violence
The Danish National Centre of Psychotraumatology handles a variety of tasks; particularly research, where we have a wide and international cooperation. Additionally, we validate different tests such as the Danish version of the Darryl test (the Thomas test (read more)), we train Phd. students, and we take part in implementing a long line of projects - national as well as international. The figure below illustrates the different areas.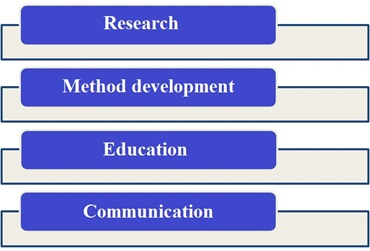 We make our research articles available to users. Items that cannot be downloaded directly from our website, can be obtained from the Centre for Psychotraumatology. You are also welcome to send an email to ceandersen@health.sdu.dk if you have questions. Read more on our Facebook page here.