Embodiment means the physical structure of the UAV or drone, including aerodynamics, mechanical design, and materials. Research in embodiment is supported by lab facilities at the SDU Campus, as well as the SDU UAS Test Center and Composite Materials Laboratory at the HCA Airport.
The SDU UAS Center is developing key research areas within embodiment and drone safety:
Ethical embodiment using Value-Sensitive Design (VSD) methods
High-performance structures from composite materials
Emerging manufacturing methods such as 3D printing
Active safety systems including a drone airbag, drone parachute, and fail-safe activation module
The goal in the embodied research area is to create drones that are both effective and ethical by design, in support of the Center's mission of creating drones for the benefit of society.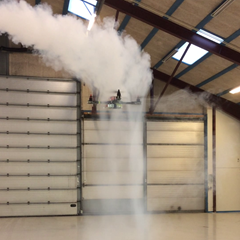 Related research projects
Contact