180 billion DKK is the approximate value of the Danish sewer system. The total length of the Danish sewer system is 64,000km. In comparison, the US has approximately 2 million km and China more than 4 million km. Although hidden, this infrastructure represents a high value for the society and the consequences of faults can be catastrophic.
ASIR (Automated Sewer Inspection Robot) targets improving the process of frequent pipe inspection to ensure integrity, to extent lifetime, and to reduce operating costs and environmental impact.
The outcome will be a concept that can navigate the pipelines autonomously, annotate and classify critical faults - such as roots, pipe displacement and corrosion. ASIR has the potential to reduce the cost of maintaining a pipeline infrastructure by up to 25% while at the same time provide the commercial partners with a unique competitive platform to scale the technology across markets and applications.
The specific objectives of the projects are:
1. Making a robot platform that can carry a sensor suite and onboard processing capability.
2. Developing an algorithm that can navigate and control the robot platform in pipes with a diameter range of 200 to 600.
3. Developing an algorithm capable of detecting and classifying the abnormalities in a pipe better or equally to the performance of a traditional inspection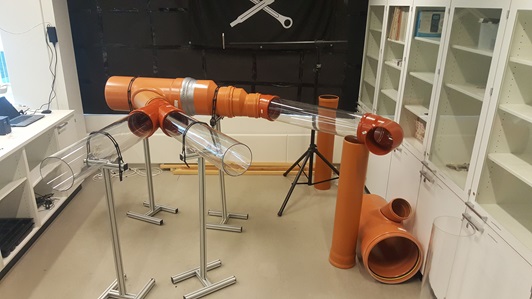 Test setup: Diameters: 200mm, 250mm, 315mm, 400mm
Turns: 90, 15, 45 degrees.
Innovation Fund Denmark has granted 13m DKK to ASIR, which is a joint 3½ years research project between Aalborg University, SDU, Aarhus Vand, Vandcenter Syd, HOFOR, Tiny Mobile Robots, INLOC Robotics, Envidan, and FKSSlamson. The total budget is 24m DKK.
For further information, please contact Assistant Professor Hamid Arionfard, arionfard@sdu.dk.