Metal 3D printing for the masses
Fabrikant Mads Clausen's Foundation is donating 90,000 DKK for metal 3D printing at Centre for Industrial Mechanics
The popularity of SDU's rapid prototyping facilities, also known as "The Core", has firmly established itself in light of its continuous expansion within the last few years. 3D printing has constituted a central piece of the activities in this respect, serving both students, researchers and local companies.
So far, the 3D printing technologies employed at Centre for Industrial Mechanics at Department of Mechanical and Electrical Engineering in Sønderborg have been Fused Filament Fabrication (FFF) and Vat Photopolymerization, restricted to thermoplastic extrusion and resin hardening. The expansion towards metal 3D printing is a natural next step, enabling a vastly larger design space with cost-effective fine tuning of the otherwise prohibitively expensive manufacturing of custom metal components.
Until recently, the cost of metal 3D printing was an inherent drawback. A recent innovation in metal-infused FFF filament (Aluminum Filament™), coupled with the increased accuracy of modern non-industrial 3D printers, opens up for the possibility of creating metal 3D printed parts at a fraction of the cost of industrial-grade metal 3D printers. The process relies on 3D printing a mixture of polymer with high concentration of metal, which is then sintering in a kiln to remove the polymer binder and produce fully metallic parts (steps shown below).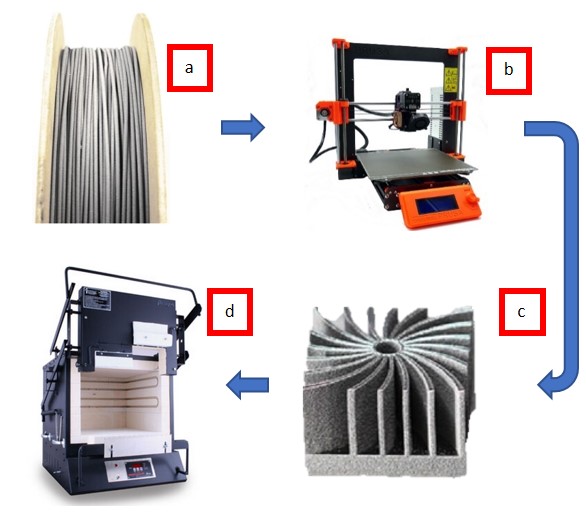 The donation by Fabrikant Mads Clausen Foundation now makes it possible for Centre for Industrial Mechanics to establish metal rapid prototyping facilities at SDU Sønderborg. - Apart from expanding the current applications of 3D printing at SDU towards the manufacturing of eg. optimized valves, heatsinks and conductive traces for conformal 3D printing, the new facilities will be an additional asset for the upcoming programme in mechanical engineering, attracting new candidates and placing SDU Sønderborg at a regional academic forefront.
Contact
Please contact Engineer and PhD Student Andrei-Alexandru Popa for further information about the project: andrei@sdu.dk – Tel. 6550 1226.