Hans Christian Andersen, perhaps the most famous Dane throughout time, lends his name to University of Southern Denmark's HCA Academy. The Academy consists of members from all faculties, as well as a secretary from the Vice-Chancellor's Office and a journalist from Corporate Communication.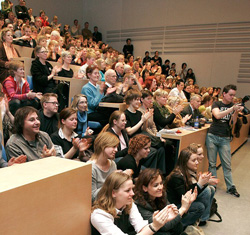 The HCA Academy was founded in 2001 and each year it has appointed a researcher of the highest international standard to give an academic lecture of general interest. The HCA Academy hosts these annual lectures that are called: "The Hans Christian Andersen Academy Annual Lecture".
The HCA Academy is a forum for special academic events at University of Southern Denmark. Its objective is to substantiate and emphasise the university as an academic unit that thrives by virtue of a shared and durable mindset. Upon recommendation by the academy, the Vice-Chancellor annually appoints a number of internationally acknowledged researchers who are invited on a HCA Visiting Professorial Fellowship at the university.
See Terms of reference for the HCA Academy and a list of the academy members.
The Silver Tree


Every HCA lecturer is awarded with the silver pin "Silver Tree of the HCA Academy". Inspired by the logo of University of Southern Denmark, it has the shape of a stylised apple tree. The Vice-Chancellor presents the pin to the lecturer immediately after the lecture.
For further information please contact: HCA Academy Secretary: Special advisor Louise Heidemann, The Vice-Chancellor's Office, tel. (+45) 6550 1072.