Mortality forecasts support social, economic, and medical decisions as well as individuals' choices, for example, about savings and retirement. Because future life expectancy and life tables estimates have such economic and political implications, they are subject to intense scrutiny and accurate forecasts are crucial.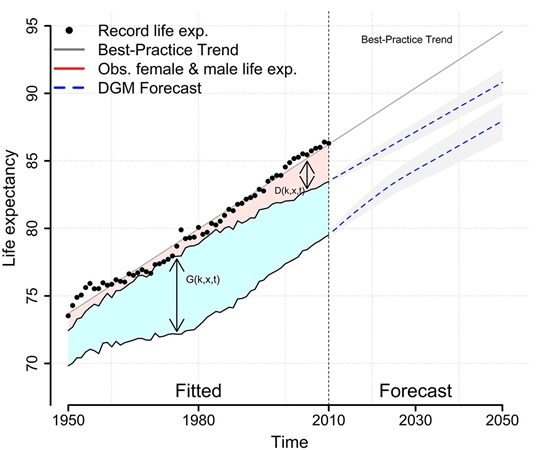 Actual and forecast life expectancy at birth generated by the Double-Gap Model for Swedish females and males, 1950-2050.
our interest. Our methodologies address important challenges in forecasting and provide innovative alternatives, generally showing increased accuracy compared to commonly used methods. We have been especially interested in the use of different life table statistics to forecasting and finding practical ways to include health information into the forecasts, such as causes of death.
We also assess the consequences that the different forecasting methods have for individuals, but also for the health care system and for the economy and society more generally - and the implications for policy. Our findings have implications for employment, education, and the various far-reaching changes resulting from longer, healthier lives and population aging.
People:
Related projects: