International recognition for football fitness and football professor Peter Krustrup
UEFA has awarded a Gold Award for "Best Social Initiative" to the Football Fitness U90 Training Camp, a project developed by SDU and DBU Bornholm.


The participants came from a range of different projects where football is used as a health promotion tool - both physiologically, socially, and mentally, including FC Prostate, Football for the Heart, and Football Fitness U90.

The aim of the training camp was to support and develop the social communities that the elderly are part of. At the same time, there was a focus on highlighting the health and wellbeing potential of lifelong sports participation. Especially in relation to football, this is a unique phenomenon internationally.


Football training is healthy and fun
The initiative has now been awarded a Grassroots Gold Award from UEFA (Union of European Football Associations) for best social initiative in Europe 2022/2023.

- Football is a very special tool because it combines health promotion with camaraderie and fun, explains Peter Krustrup, professor sport and health sciences at the Department of Sports Science and Clinical Biomechanics at SDU, who has been involved in research on football for health for over 20 years.

- Our research has shown that a great many people can benefit from playing football, regardless of their age, gender, and previous sporting experiences, and it is my great hope that this European recognition can contribute to boosting the international spread of recreational football for women and men aged 60, 70, 80, and 90 years.


In September 2022, the organizers gathered 57 seniors aged 61-85 for a four-day training camp on Bornholm for the Football Fitness U90 Training Camp event.
Meet the researcher
Peter Krustrup is professor of ball games at the Department of Sports Science and Clinical Biomechanics at SDU.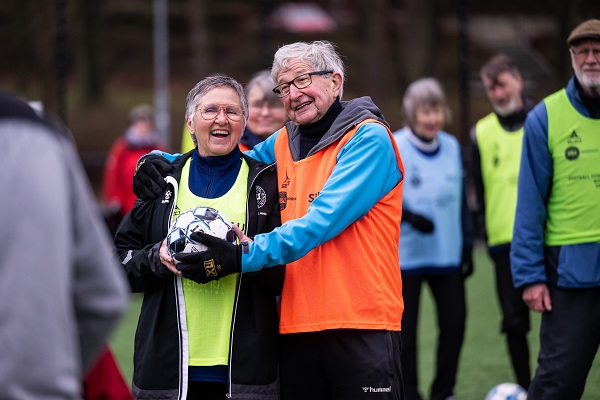 Effective prevention and treatment
Peter Krustrup has helped develop the concept of football fitness, a modified form of football training that untrained adults can practice to improve their health and well-being.

This has been described in more than 200 scientific articles from Peter Krustrup's research unit.

Research shows that football combines three types of training - high-intensity interval training (HIIT), endurance training, and strength training - all working at the same time making football a really effective hybrid training.

- Football training is a fantastic broadspectrum prevention and treatment of lifestyle diseases, both related to cardiovascular diseases, metabolic diseases and musculoskeletal challenges. That's why we call it medicine. In some cases, football is as good as or even better than pill medication, says Peter Krustrup.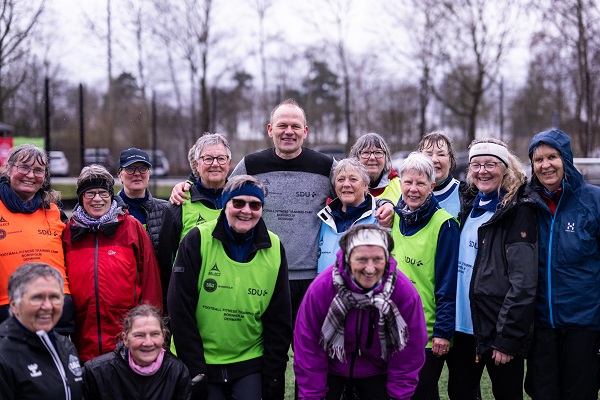 Helping to spread awareness
On Bornholm, which hosted the training camp in 2022 and will do so again in 2023, Lars Albæk, Chairman of the DBU Bornholm and Vice Chairman of DBU's Grassroots Committee, is happy with the UEFA award and the recognition that comes with it.

- Playing with and sharing the small round leather ball is something that everyone, regardless of age, can participate in and enjoy, and something that we at DBU have been fighting for for many years, he says.

- I am very proud that we at DBU Bornholm can now help to spread awareness of the football fitness concept, both on Bornholm, in the rest of Denmark, and throughout Europe. I also hope that this recognition will encourage even more people to participate in our annual Football Fitness Camp on Bornholm.


Facts:
Football fitness was introduced in 2011 and is now an integral part of DBU (Danish Football Association). Coach courses in Football Fitness and Football for the Heart are held throughout the country in collaboration between DBU and SDU.

This year, the "Football Fitness U90 Training Camp on Bornholm" will be held on September 8-11 , in a close collaboration between Peter Krustrup, Lars Albæk and the sports innovator Ulrich Ammundsen. 300-500 participants are expected from both Denmark and abroad.
Ulrich Ammundsen, who works with sports and cultural innovation and was the Host City Manager in Copenhagen for Euro 2020, is a co-organizer of the Football Fitness Camp on Bornholm.