Collaborators
Professor Birgitte H. Kallipolitis
Associate Professor Marianne N. Skov
Professor Michael Kemp
Project description
There is mounting evidence supporting the beneficial effect to human health of a diet rich in long-chain unsaturated fatty acids (LUFAs), such as omega-3 fatty acids. In the field of biomedical microbiology, LUFAs are gaining increasing relevance as antivirulence agents, acting to disarm pathogenic bacteria of their virulence factors. We recently demonstrated that dietary LUFAs, including omega-3 fatty acids, act as signaling molecules to inhibit the production of key virulence factors in the food-borne human pathogen Listeria monocytogenes (Figure 1). More specifically, exposure to dietary LUFAs led to an instant shut-down of transcription of key virulence genes in a Listeria laboratory strain, however, the molecular mechanism underlying this effect is presently unknown. In this project, we are investigating if the antivirulence effect of dietary LUFAs extends to clinical isolates of L. monocytogenes, and if LUFAs are capable of preventing bacterial infection. Furthermore, we are exploring the signaling pathways and regulatory mechanism underlying the antivirulence effect of dietary LUFAs in Listeria by using RNA-seq and biochemical analyses. Ultimately, such studies will reveal the potential of dietary LUFAs as a rationale for the future development of antivirulence strategies targeting bacterial pathogens in general.
Funded by
Novo Nordisk Foundation – Project grants in Bioscience and Basic Biomedicine.
Read more about this project
Kallipolitis BH (2017). How can naturally occurring fatty acids neutralize Listeria? Future Microbiol. 12:1239-1241.
Sternkopf Lillebæk EM, Lambert Nielsen S, Scheel Thomasen R, Færgeman NJ, Kallipolitis BH. (2017). Antimicrobial medium- and long-chain free fatty acids prevent PrfA-dependent activation of virulence genes in Listeria monocytogenes. Res. Microbiol. 168:547-557.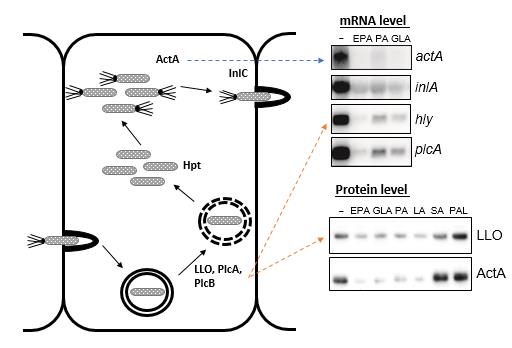 Figure 1. Listeria monocytogenes is a facultative intracellular pathogen and the causative agent of the foodborne disease Listeriosis. During infection, the pathogen gains access to the host cell cytoplasm; then, it replicates intracellularly and spreads to neighboring cells through host actin polymerization. The intracellular lifestyle of L. monocytogenes relies on multiple virulence factors, including LLO (encoded from hly) and ActA. The expression of virulence genes is inhibited upon exposure to the long-chain unsaturated fatty acids EPA, PA, GLA, and the medium-chain saturated fatty acid LA. No effect was observed for long-chain saturated fatty acids SA and PAL. For further details, see the paper by Lillebæk et al., 2017.