Collaboration with Canna Therapeutic ApS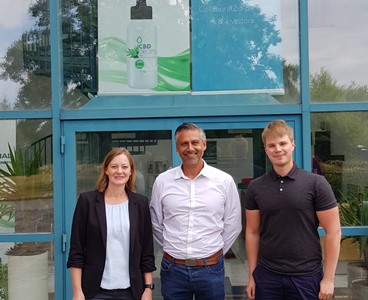 Associate professor Janne Kudsk Klitgaard and Phd student Claes Søndergaard Wassmann investigates an invention where a specific set of combination of non-hallucinogenic medical cannabis compounds (cannabinoids) and antibiotics, which together can be used to effectively kill disease causing bacteria, which would otherwise be resistant towards traditional antibiotics.
In addition to potentiating otherwise ineffective antibiotics, the combination treatment allows a significant reduction in the concentration of the antibiotics used, which in turn reduces the risk of further resistance development. Current focus is on targeting MRSA (Methicillin Resistant Staphylococcus aureus), a pathogen which causes serious skin infections in e.g. burn wounds as well as potentially fatal systemic infections.
The present collaboration project is focused on identifying the most efficient combination and identifying the mechanism of action. In near future, a medical cannabis product containing an antibiotic will be tested in an animal model for in vivo applicability.
Canna Therapeutic is a biotech start-up founded in October 2016. Canna Therapeutic specializes in innovative treatments using medical cannabis. This business opportunity has recently become substantially more compelling, as hemp growth and the medicinal use of cannabis extracts have become legal in Denmark (initially for a four-year test period). Canna Therapeutic is developing a portfolio of active pharmaceutical ingredients from various cannabis extracts as well as drug candidates originating from the plant for therapeutic treatment.
Patent
Patent application WO 2018/234301 A1 entitled "Bacitracin and/or daptomycin combined with cannabidiol for treatment of bacterial infections