Collaboration with Canna Therapeutic ApS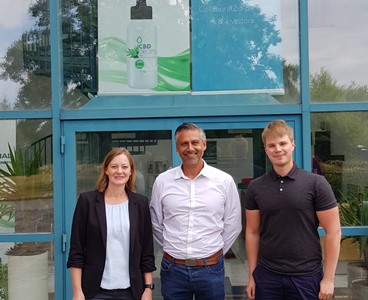 Associate professor Janne Kudsk Klitgaard and Phd student Claes Søndergaard Wassmann investigates an invention where a specific set of combination of non-hallucinogenic medical cannabis compounds (cannabinoids) and antibiotics, which together can be used to effectively kill disease causing bacteria, which would otherwise be resistant towards traditional antibiotics.
Methicillin Resistant Staphylococcus aureus), a pathogen which causes serious skin infections in e.g. burn wounds as well as potentially fatal systemic infections.

The present collaboration project is focused on identifying the most efficient combination and identifying the mechanism of action. In near future, a medical cannabis product containing an antibiotic will be tested in an animal model for in vivo applicability.

Canna Therapeutic is a biotech start-up founded in October 2016. Canna Therapeutic specializes in innovative treatments using medical cannabis. This business opportunity has recently become substantially more compelling, as hemp growth and the medicinal use of cannabis extracts have become legal in Denmark (initially for a four-year test period). Canna Therapeutic is developing a portfolio of active pharmaceutical ingredients from various cannabis extracts as well as drug candidates originating from the plant for therapeutic treatment.
Eurostars project: pURIcat
Type of project: EU project under the Horizon2020 program
Total project budget: 7.6 M DKK
Urinary tract infection is among the most common infection in hospitals and nursing homes, and often occurs as a result of urinary catheterization. Bacteria are able to colonize and form biofilms on indwelling catheters, from where they infect the urinary tract. This causes discomfort and a considerable antibiotic consumption, and occasionally ascending infections where bacteria reach the kidneys and the blood.
In the project "pURIcat" the Clinical Biofilm Group at the Dept. of Clinical Microbiology cooperates with a Danish and two Spanish companies in an effort to develop a urinary catheter that better resists these infections. A new antimicrobial coating is being developed for the device surface which effectively rejects bacteria. In case an infection, the material technology used in the catheter balloon makes it possible to administer antibiotics directly in the bladder, for target-directed treatment with less side-effects.
The participants include the Spanish Venair and OnyriQ. Venair specializes in precision manufacturing of silicone tubing and Onyriq are specialists in modification and functionalization of polymer materials. The Danish company Biomodics are experts in specialty polymers and drug delivery using patented silicone modification technologies.
The two-year project was initiated in April 2018.
Links:
https://www.eurostars-eureka.eu/project/id/11932
https://www.sdu.dk/da/om_sdu/fakulteterne/sundhedsvidenskab/nyt_sund/topplacering_og_bevilling_til_sdu-forskning_i_katetre
Eurostars project: BacSens
Type of project: EU project under the Horizon2020 program
Total project budget: 7.3 M DKK
Fast identification of a bacterial pathogen isolated from hospital patients is of critical importance to initiate a timely, optimal treatment and prevent further exacerbation of the infection. In this Eurostars project, the Clinical Biofilm Group at the Dept. of Clinical Microbiology cooperates with Danish Fundamental Metrology under the Center for Nanotechnology at DTU and the two companies BacAlert IVS (DK) and the Art Photonics GmbH (DE).
The goal of the project is to develop a new type of sensor which uses Raman spectroscopy for rapid identification of a bacterial species. The intention is furthermore to obtain adequate knowledge about spectrum interpretation, to extract further knowledge about key clinical bacterial characteristics, including antibiotic resistance profiles and virulence properties.
The project team is highly cross-disciplinary with experts from fields as diverse as laser technology over electronics design to clinical microbiology.
Starting in June 2019 and operating over 30 months, the project team will design and built the sensor followed by a process of testing and optimization in close collaboration with the hospital routine clinical microbiology laboratory.