Through this project we develop biologically mediated upgrading systems from lab-scale to industry scale, where H2 generated through water electrolysis is biologically converted to CH4 by the action of autochthonous hydrogenotrophic methanogens.

The specific tasks in the project deals with is:
Standardize the design of bio-trickling filter reactors for ex-situ methanation
Maximize the production capacity of CH4 per unit volume of the reactor
Tests of different packing materials
Develop SOP for the startup and operation of the bio-trickling filter reactors
Direct inoculation with digestate from biogas plant
Nutrient consumption and dosing strategy
Nutrient trickling strategy
Cooling of full-scale plants
Recirculation of the product gas
Design and test the operation of a 2 m3 pilot plant.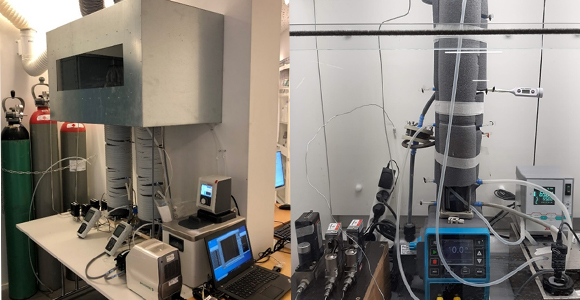 Facilities
The laboratory is equipped with advanced bioreactors from lab- to pilot-scale together with state-of-the-art analytical instruments. The lab is "ATEX certified for safe working environment to avoid explosive atmosphere according to EU Directive 1999/92/EC ('ATEX Workplace Directive'), specifically to safe use of hydrogen for biogas upgrading experiment. Our facilities include 4 GC and HPLC systems, ion chromatography, ion-trap mass spectrometer, LC-QTOF, LC-QQQ MS, flam ionization atomic absorption spectrometer.

• Lab-scale trickle bed reactors for biogas upgrading.
• Soxhlet extraction, supercritical CO2 extraction.
• Gas composition measurement using GC-FID and GC-TCD.
• Liquid media composition analysis using GC-FID and HPLC with RID and VWD.

Group members:
Professor, head of department Jens Ejbye Schmidt
Professor, head of Life Cycle Engineering, Henrik Wenzel
Associate professor, Jin Mi Triolo
Executive officer, Lars Yde
Postdoc, Muhammad Tahir Ashraf
PhD student Brian Dahl Jønson