It should not be about the politician, but the politics
Written by Karoline Lunddal Dam, Communication Assistant at Center for War Studies
The Danish TV-host, writer, and lecturer Clement Kjersgaard visited University of Southern Denmark Wednesday afternoon. He came to speak about the new President of the United States Donald Trump, and what democracy is now after this surprising election.
"If we were here a year ago, we would be talking about a whole other world," is the afternoon's first statement from Kjersgaard.
In November 2015, the businessman Trump won the American Presidential election, and that is what Kjersgaard gave his opinion about.
"What counts as success and what counts as failure?" is the first question he asks. Trump has primarily gotten attention because of his manners and personal statements. Trump is not afraid to challenge his opponents.
Kjersgaard states three factors Trump's opponents react on. Firstly, his form regarding manners and utterance. Second, the fact that he is a businessman,"the State is built to hold people like Trump in check," Kjersgaard reminds us. And lastly, because of his political ambitions. Kjersgaard mentions that Trump will lower the tax for the wealthiest and that he is downgrading the environment.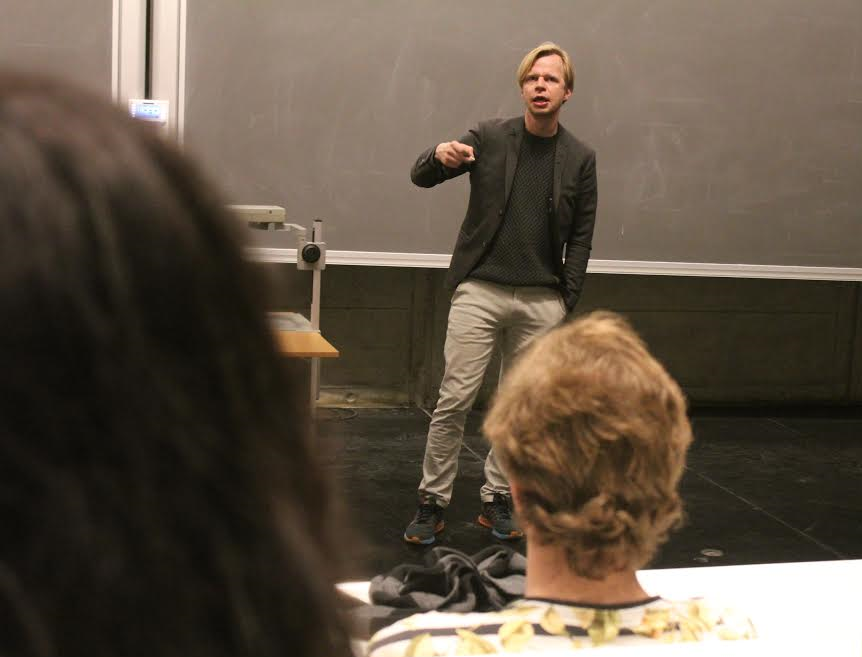 So why did he win the election?
Kjersgaard argues there are two reasons for this. Firstly, he argues that Trump is a daredevil. He dares to speak his opinion about political taboos, which the other politicians avoid to their best ability. Kjersgaard thinks that Trump fills an empty space in American politics, where it used to be quiet.
Trump's opponent from the democrats Hilary Clinton has many years of political experience. For example, as First Lady and as Secretary of State. So how could a businessman win over this? "Trump had his hotels and his reality career. She (Clinton red.) had something to live up to – he did not," substantiates Kjersgaard, and adds that he thinks the voters have thought less about "who do we like the most?", and more about: "who do we hate the least?"
With this said, Kjersgaard has in mind that the American election system works very different from the Danish. 2.864.974 votes. That is how many votes Clinton received more than Trump.
But Trump won.
Kjersgaard states that we need to assume that Trump was elected because of his political goals and not his person: "We must remember to separate what is being said from who says it," Kjersgaard says and continues: "If democracy needs to function, we must accept that at some point there will be a politician you hate, who says something you agree with."
Please note, that all opinions in this piece are stated by Clement Kjersgaard.