A new environment to support PhD students
The purpose of the new facilities at the library is to improve conditions for SDU's PhD students
By Jacob Stenz, jaes@sdu.dk
There are more than 1,000 PhD students at SDU who teach and conduct research on a daily basis.
With the inauguration of Philoteket, they now have access to new facilities at the University Library on Campusvej in Odense where they can go about their work.
The new facilities include special booths to conduct phone interviews, conference facilities to practice presentations and areas where they can put their research results on display.
Philoteket was inaugurated on 29 May 2017 by SDU's Vice-Chancellor, Henrik Dam. In his speech he emphasised that it is important for the university that its PhD students have access to a good environment in which to further their research.
It is no coincidence that the library was chosen as the location for this new environment.
— In recent years, we have been very occupied with developing new roles for our library that go far beyond the traditional storage and lending of books, Dam said.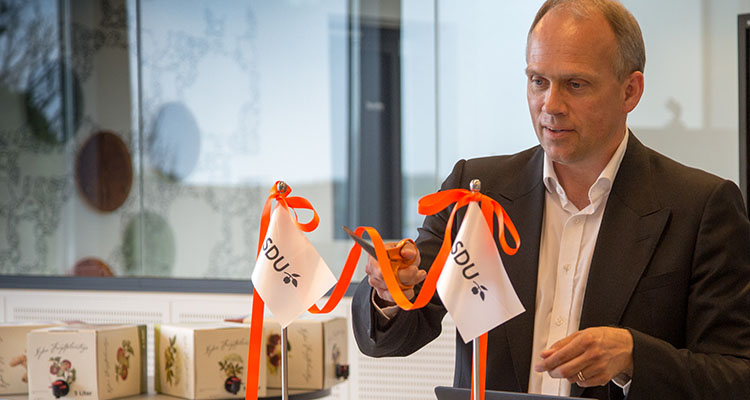 — The library is a neutral zone where PhD students from every research field can meet and be academically inspired by others in the same situation, he added.
Stress management
The design of Philoteket is based on the library's own research-based study which identified the PhD students' wishes for an academic and social platform.
— Our study shows that in addition to a clear need for an improved physical environment, there is also a strong demand for events about subjects of particular concern to PhD students, such as having a good relationship with one's supervisor, making a career plan, managing stress or simply getting a better understanding of the university's organisation, said Charlotte Wien, head of the Research and Analysis Department at the University Library.
She emphasised that Philoteket should not be seen as a replacement for the facilities that already exist at the faculties. Nevertheless, the library's location is a great advantage.
— At the library, we can combine a physical environment that is conducive to immersion, interaction and inspiration with subject matter expertise. Research librarians can assist with the latest advanced search methods, and they are familiar with many of the challenges that researchers struggle with in their daily work, Wien said.
A lonely process
With the inauguration of the new facilities, the newly formed PhD Association at the University of Southern Denmark (PAUSD) hopes that many of its members will take advantage of the new opportunities they offer.
Liza Sopina, chairman og PAUSD.
— Being a PhD student can sometimes be a lonely and confusing process. You can end up feeling a bit isolated with your research, and at the same time there is a certain degree of stress connected with having to teach. We want to create a forum where those challenges are acknowledged and dealt with, said Liza Sopina, chairman of PAUSD.
PAUSD was founded in January 2017, with representatives from each of SDU's five faculties on the board.
Back to News
More about PAUSD
The PhD Association at the University of Southern Denmark (PAUSD) was founded in January 2017. The 12-person board is comprised of representatives from SDU's five faculties. All PhD students at SDU are automatically enrolled into the association.