Open House at the Campus hall of residence
Come and experience the new hall of residence building at the University of Southern Denmark, find out more about the underlying concept and enjoy some of the most stunning views in Odense! Open House, 1 and 2 August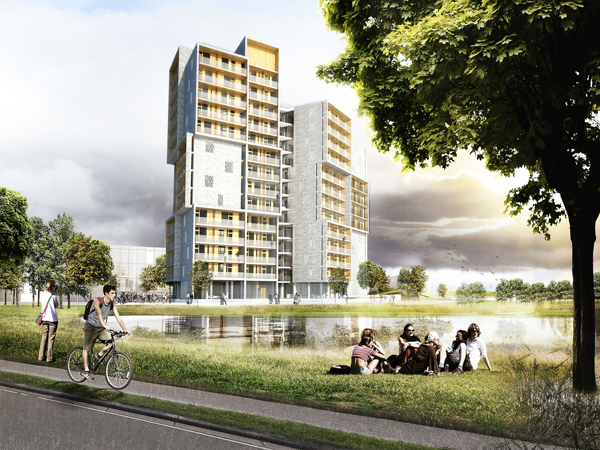 Since summer 2014, passers-by have been able to see one storey after another being added to "Campus Kollegiet" – the new hall of residence on the fringe of the woods at the University of Southern Denmark in Odense. On 1 September, the first Danish and international students will finally be moving into the hall of residence, a gift to the University of Southern Denmark from the A.P. Møller Foundation.
However, before that, Campus Kollegiet is giving all those who are interested the opportunity to come inside and take a closer look at the building during the Open House event on 1 and 2 August.
"We are looking forward to showing all who are interested what a state-of-the-art hall of residence looks like. No long, dark corridors, but plenty of daylight and a good balance of private and communal living space shared by Danish and international students. And the views are well worth seeing," according to Henrik Tvarnø, Chairman of the University Hall of Residence in Odense Foundation, which owns the hall of residence.
Tours on both days
Tours of the 15-storey hall of residence will be provided on both
About the hall of residence
Size: 15,000 m2.
Ready: September 2015.
Developer: Fonden Universitetskollegiet i Odense (the University Hall of Residence Foundation) (established by the A.P. A.P. Møller og Hustru Chastine Mc-Kinney Møllers Fond til almene Formaal foundation).
Architect: C. F. Møller.

Saturday and Sunday to let people see how all 250 rooms in the hall of residence are fitted out with quality design, their own WC/shower and their own balcony with attractive views of the city of Odense, woodlands and the university.
The hall of residence has communal areas such as lounges and kitchens where students can meet, too. The top storey is also reserved for shared activities, with space for music, drama and fitness, for example. Here, from the top of the building – which at approximately 50 m is one of the tallest buildings in Odense – people will also be able to enjoy views across Funen as far as the Great Belt.
The Open House event takes place on Saturday 1 August from 2–4 pm and Sunday 2 August from 10 am – 4 pm at Campus Kollegiet, Moseskovvej 1, DK-5230 Odense M.
It is advisable to use SDU's parking areas (P1 by the indoor swimming pool).
Read more about 
the hall of residence and the application
procedure.