Businesses from Funen and Jutland to meet top international university students
International job fair on Funen: Highly qualified students from abroad often find it difficult to get jobs in Denmark, and this is also the case in the Region of Southern Denmark. For this reason, the University of Southern Denmark is organising a special job fair where companies from Funen and Jutland can meet some of the University's brightest international students, who'll be bringing along not only their CVs but also specific business ideas for the companies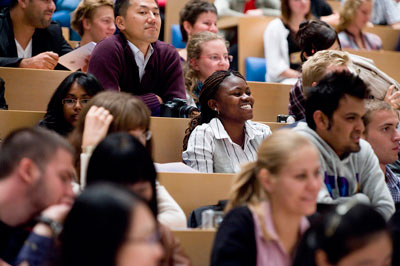 Despite being highly educated and having unique skills, international students often struggle to find jobs in Denmark. This is also the case in the Region of Southern Denmark, where many companies are often reluctant to hire foreign experts and therefore miss out on a great deal of potential.
The University of Southern Denmark wants to do something about this.
SDU is organising a job fair on 21 March where businesses in the region can meet some of the University's brightest international students who are looking for a student job, an internship or an academic position.
"We hope that more companies will become aware of the many talented international students we have at the University who are motivated to work in the region. The international students are familiar with international export markets, for example, and can open doors to new business opportunities. They can help give both businesses and the entire region a knowledge boost, so it is important to get these students involved," says Henrik Dam, Vice-Chancellor of the University of Southern Denmark.
International Brainstormers
Almost 70 job-seeking students who are particularly adept in their field will attend the fair. They have been selected for "International Brainstormers", an initiative by SDU, the EU and the Region of Southern Denmark designed to attract more highly educated international experts to the Region of Southern Denmark, and retain them.
The talented young people come from China, Africa and Europe. They have high marks and are motivated to stay and make their career in Denmark.
At the University of Southern Denmark, they take an English-language master's degree in, for example, robotics, marketing, finance or international business, as well as parallel courses to learn Danish, while at the same time learning about the Danish labour market.
"Most international students want to stay in Denmark after they graduate, but often they have to relocate elsewhere because they can't find work. This is why the University is making efforts to help our international students get student jobs or make contacts in the business community in other ways during their studies. This should pave the way for them to find work more easily later on," says Vice-Chancellor Henrik Dam. 
Specific business ideas
The international job fair will take place on 21 March from 1 pm to 3 pm at the University of Southern Denmark in Odense, Campusvej 55, Odense M.
The students will bring their CVs and a few business ideas for selected companies. They will present these ideas to the businesses in the hope that this will result in future collaboration.  
The University of Southern Denmark has about 5,000 foreign students. So far, 80 of them are taking part in the International Brainstormers youth talent programme.