More young people from abroad want to study at SDU
This year the University has received 38% more applications, and they come from 51 countries. By far the majority come from Germany, but young people from the Baltic States and Britain have also taken notice of SDU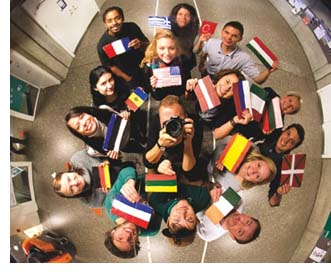 Far more young people from abroad have applied for the University of Southern Denmark's international bachelor programmes this year.
The University has received 801 applications, which is an increase of 38% compared to last year, when the University received 588 applications from abroad.
The young people are especially interested in three programmes: Economics and Business Administration, Market and Management Anthropology and the Mechatronics engineering programme, which links mechanics and electronics, for example in the field of robotics.
Talented and internationally oriented
This year SDU is offering 12 different programmes which are taught in English and adopt a global perspective. The young people who are admitted will study in Sønderborg, Slagelse or Odense.
"It is mainly young people from Germany who want to study at SDU. They are followed by young people from the Baltic States, Slovakia, Poland and Hungary. These are countries we are very interested in forging closer links with. And we are getting more talented and internationally oriented students from these countries," says Senior Consultant Bo Kristiansen, who works with international recruitment.
He also notes that the Brits are beginning to take notice of the University of Southern Denmark.
Teamwork and contact with businesses
One of this year's international applicants is Piotr Mieszało from Poland, who has applied for an engineering programme in product development and innovation. He says that he became aware of SDU through the University's Polish-language Facebook page.
"I expect hard work and lots of teamwork, and I have also heard that the programme includes a lot of practical work with companies," he says.