Ambassador on the move
On Tuesday, the Institute of Sports Science and Clinical Biomechanics received a visit from the Danish Ambassador to China, Friis Arne Petersen. He was briefed on the Institute's many activities in China – and then took a run with TriTeam SDU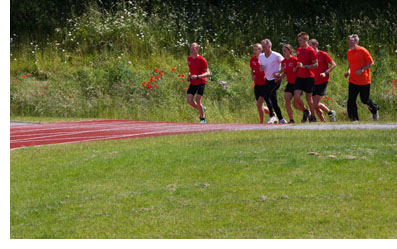 A sedentary lifestyle is detrimental to health, and in both Denmark and China there is concern over the fact that more and more people are acquiring lifestyle diseases such as obesity and diabetes.

In both its research and teaching, the Institute of Sports Science and Clinical Biomechanics focuses on how exercise and sports can prevent and treat the diseases that occur in the wake of increasing prosperity – and this has opened doors for SDU in China.

On Tuesday, the Institute received a visit from the Danish Ambassador to China, Friis Arne Petersen, and Institute Head Jørgen Povlsen announced that SDU has already signed cooperation agreements with Beijing Sports University, China Sport Science Society and China Institute of Sports Science – and that, in close collaboration with the company SIS Functional Furniture, the University has developed interactive school furniture that will soon hit the Chinese market.

- We have the opportunity to be at the forefront of collaborations and exports in the field of public health, which China is increasingly focusing on, says Jørgen Povlsen.
- But China is a vast, complicated country to deal with, so we're pleased that the Danish ambassador is visiting us here at SDU to see the Institute's new sports and rehabilitation facilities and hear about our research activities. It is a great help that the embassy is willing to support our activities.

After the Institute's introduction, both Friis Arne Petersen and Jørgen Povlsen donned their jogging gear and took a run around the new track with students from TriTeam SDU.