Names of the week
People news from the Faculty of Science, Week 7
Wednesday saw the inauguration lecture by Honorary Associate Professor John M. Ratcliffe. John M. Ratcliffe studies the acoustic communication of bats and moths at the Department of Biology.
Morten Holm Falk, who graduated with an MSc in Applied mathematics from the University of Southern Denmark in the autumn of 2013, has been granted a three-year travelling scholarship for PhD studies abroad. The scholarship, which has been granted by Rejselegat for Matematikere, covers all necessary expenses related to education and living for a period of three years.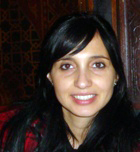 Susana A. M. Martins from the Department of Physics, Chemistry and Pharmacy has been received a Postdoc grant of DKK 2,463,840 from the Danish Council for Independent Research, Technology and Production Sciences. Dr. Martins will start up a new research project about the blood/brain barrier and permeability of drugs. Read about her work with the blood/brain barrier in the 2014 issue of NatXpressen.
In the journal Nature Barbara Kiser has provided a positive review of Professor Donald Canfield's new book on the history of the oxygenation of Earth, Oxygen: A Four Billion Year History.
Along with partners from the Copenhagen University Hospital and the Technical University of Denmark, Professor Poul Bjerregaard, Department of Biology, has won a grant of DKK 18m in a competitive bidding for EU research funding, securing the future of the Centre on Endocrine Disrupters until 2017. The centre is a consortium consisting of partners from the Department of Biology, the Copenhagen University Hospital and Technical University of Denmark.
Associate Professor Magnus Wahlberg, Department of Biology, has received DKK 48,000 from the Danish Agency for Science, Technology and Innovation for an outreach programme during the Research Nights (Forskningens Døgn) on 24-26 April 2014. In cooperation with the Danish Technological Institute, the Marine Biological Research Centre in Kerteminde will provide live streams of different research activities at various science centres in Denmark and Northern Germany.
Professor Jesper Wengel, Department of Physics, Chemistry and Pharmacy, is the new chairman of the Villum Foundation Postdoctoral Program Commitee. With the Postdoctoral Programme, the Villum Foundation aims to provide financial support for research-based further education of young, talented researchers at Danish or foreign universities and other institutions of higher education, and to enable strong Danish research environments to attract high-achieving postdoctoral candidates irrespective of nationality. The programme covers research areas inside the natural and technical sciences. For the years 2014 and 2015 DKK 60 million has been allocated.